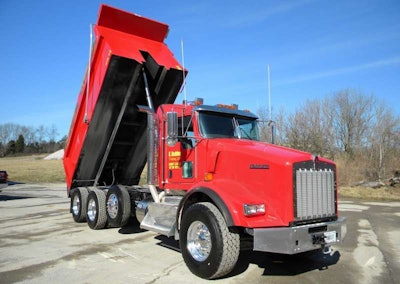 Keith Redden's retirement dream was to start a trucking firm. "I said if I owned six trucks, I could make a living," he says. After a start in 2003 with three used Kenworths from a home base in Floyd's Knob, Ind., across the Ohio River from Louisville, his K Redden Trucking business is up to a total 24 power units at present, "and I enjoy it more every day," he adds.
In 2005, he began purchasing new, buying "only top-of-the-line Kenworth T800s," he says. "We're known for having the best fleet of dump trucks in the area, and the best drivers."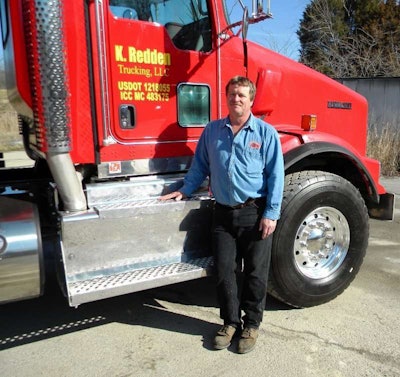 Redden (pictured) attributes his fleet's 2011 revenues of $2.5 million, a 10 percent increase over the year before, to those drivers – and the new Paccar MX engine. Hauling asphalt and aggregate for highway construction, and road salt in winter, the T800 dumps are spec'd with the 455-hp MX, Eaton UltraShift Plus transmission, Dana 46,000-lb. rear axles, Alcoa aluminum wheels, Bendix front air disc brakes and the KW extended day cab with premium interior. The new powertrain has netted fuel mileage bonus of 0.6 to a full 1 mpg over his older T800 dumps, or a 15 percent gain at the top end, he says.
"Some of our MX engines have 40,000 miles on them now," Redden adds, "and we've had no problems at all."
Redden, who is the back-office administrator and shop foreman all in one, says his trucks' reliability has been a big boost to the business' viability. "Our trucks don't break down, and our customers like having good-looking, reliable trucks on their jobsites."