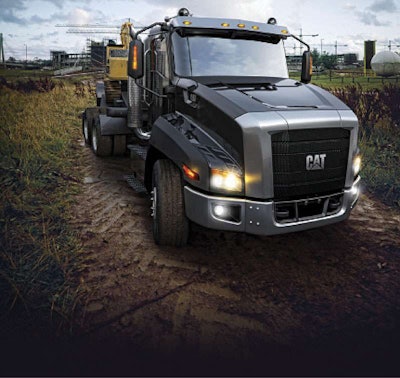 Navistar's new approach to meeting 2010 EPA emissions standards, which partly involves Cummins engines and after-treatment, raises that very question about Caterpillar's CT vocational trucks and its partnership with Navistar.
The CT series, unveiled in 2010, comes with available engine options of CT11, CT13 and CT15, all three of which are Navistar MaxxForce engines that Cat engineers rebranded as their own.
Navistar's new strategy, starting in March, partly involves using selective catalytic reduction-based ICT+ (in-cylinder technology) to meet EPA standards. As Equipment Editor Jack Roberts has written, it will use components from Cummins after-treatment system combined with Navistar's exhaust gas recirculation system.
Navistar also has hinted it may surrender its 15-liter market to Cummins, whose ISX15 will be offered as an option for International trucks starting in January.
Navistar today finds itself in the unusual position of having partnerships with Cummins and Caterpillar – the former to get its own ship righted, the latter with a worldwide diesel engine leader.
Caterpillar said in a prepared statement this week that its CT engines will "combine the current advanced EGR in-cylinder solution with a proven liquid-based after-treatment. More information … will be available in the near future."
Since Navistar's engines will be offered only with Cummins' after-treatment components – as they've yet to develop a propriety system – it appears that Caterpillar's CT trucks and engines will have Cummins' SCR technology and parts.
It probably will only be temporary, as Navistar more than likely will be developing its own after-treatment system for longer-term measures. Until then, it looks like Cat will have to stick with Navistar – and Navistar's new partner.