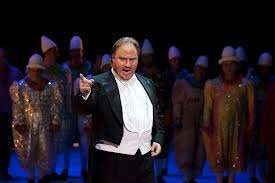 One of the hardest things we do as people is try not to stereotype someone because of their economic status, race, religion, where they were raised or their chosen career.
This is especially true in the trucking industry. People not involved in trucking often have a limited view of truckers and what they think they are. It's not a one-hat-fits-all driver pool. Truckers are individuals — with many hidden talents, personal achievements and aspirations — who are linked by the fact they drive for a living.
I have encountered drivers who are currently, or have been, poets, musicians, songwriters, authors, pilots, race car drivers, educators and the list goes one. While I have also found many who are singers, former long-time trucker Carl Tanner's story admittedly did give me pause. Tanner is an international tenor who continues to gain praise and acceptance in the world of opera for his talented voice. That voice is regularly heard by people around the world and has many dignitaries including a U.S. president.
I know little about opera. But after attending a recital by my colleague Kathleen Buccleugh (managing editor of our online trucking websites) more than a year ago, I do have an appreciation for the talent and dedication it takes to be an operatic performer.
It is reported that Stan Chervin, the screenwriter for the hit movie Moneyball, is working on a film about Tanner's life. His story, which includes a stint as a bounty hunter while driving a truck, will appeal to many people. It's gritty and real. And trucking has played a key role in shaping his character and even in his "discovery."
It's almost certain that many will say Tanner doesn't fit the stereotype of a trucker – or for the matter – an opera star. But I say, "Bravo, Mr. Tanner! Keep on trucking."