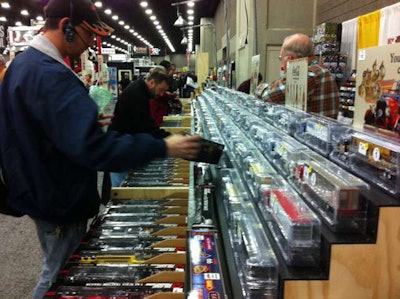 One of the back aisles staples of the Mid-America Trucking show is the vendors of model trucks. What truck brand wins the hearts of buyers? Over the years, it's Peterbilt. That's according to Larry Black, who's got a huge stock of model trucks on sale at his diecastdirect.com booth.
That's not surprising. Go to any of Overdrive's Pride & Polish events and Petes make up 80 percent or more of everything out there. If there's a Diesel Heaven, I'm sure there's a niche reserved for the Pete 379.
But there are always some models that are freshly minted, hot, and not necessarily Petes, Black says. This year, it's the K-100 Aerodyne, a Kenworth cabover that enjoyed a very long production run. Last year, International's Lonestar sold well.
"Everybody's always after something new," said Black, of Frankfurt, Ky.
Many of Black's models were selling in the $40 to $80 range. He said the two main producers are Tonka and Diecast Promotions.
---
Some years at the show, opportunists take advantage of the chance to seize the attention of the large male audience when they stop for that pause that refreshes. That is, in the Kentucky Exposition Center men's rooms.
A few years ago I recall some piece of advertising placed, if memory serves, around urinal cakes. This year, atop the urinals on the show's first day, it was two tickets per urinal for free admission to the Foxy Lady Gentleman's Club.
The name brings to mind, for us aging baby boomers, Jimi Hendrix' "Foxy Lady," who made Jimi "wanna get up and scream!" He wasn't singing about marketing, but certain foxy intrusions into odd corners of daily life can make anyone want to scream.
——————————-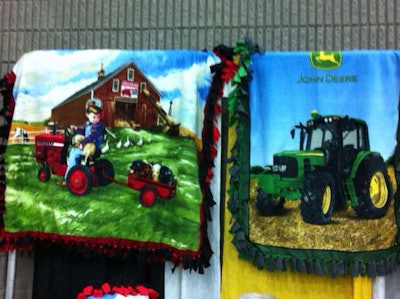 Mike and Gale Redmon are selling T-shirts with Mid-America Trucking Show logos, but what's more interesting are the blankets hanging on their wall. They're made by Gale's aunt, Jonell Westerfield.
The images include John Deere and International Harvester equipment. Not exactly trucking, but then plenty of truckers got their start driving trucks on a farm.
The blankets were popular at a recent farm trade show they attended, Mike said. Attendees were fiercely loyal to one or the other of the two dominant equipment brands, he said.
"Those people are either red or green," said Mike.