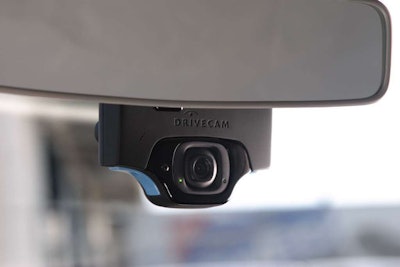 Well, maybe "watching you" is a little too strong.
Nobody wants a blackbox monitoring their driving, whether in the form of an electronic logging device, cameras in your face or anything else that records you, your truck or your whereabouts. But what if something a little less intrusive got you off of the hook for an accident you didn't commit?
On the horizon for the trucking industry is maybe something like that, coming in the form of a video camera that clicks on when it detects "risky events" like hard braking or swerving. It films the driver and in front of the truck and then is uploaded to a server where the fleet can access it.
Overdrive sister site CCJ posted today a piece on the DriveCam system, which does exactly the aforementioned.
Bendix, too, talked during its press event at the Mid-America Trucking Show two weeks ago about its SafetyDirect system, in which, like DriveCam, severe events are filmed, saved and uploaded.
At the core of all of this is driver accountability — both the good and the bad. You obviously don't want on camera to get caught in a situation where not paying attention for a brief moment put you and your truck at risk, because now it will be filmed and sent to your carrier.
Bendix did offer two examples, though, that worked out very well for the driver and carrier employing its technology.
The first featured a truck traveling in his lane, straightly, when a car from the lane next to him swerved and hit him, pushing the truck into the guard rail and causing tens of thousands of dollars in damage to the truck. The car driver claimed the truck swerved into his lane, but after the carrier came forward with the video, the car driver's insurance company actually ended up awarding the fleet $46,000 to repair the truck.
The carrier told Bendix that had the video not been there, it would have simply settled with the car driver claiming the truck swerved to hit him.
In this case, both the carrier and the driver won big.
In the second video, a car traveling a few lengths in front of a truck suddenly braked after his hood flew up, causing the truck to hit him. The car driver actually swore under oath that his hood flew up after the truck hit him. The fleet, however, then produced the video, and the mediator dismissed the case against them.
Again, both the driver and the fleet won.
Video monitoring is a trickier subject than it originally appears, especially when truck drivers are exonerated for accidents they would otherwise would be blamed for. However, is the constant presence of video monitoring worth the benefits?
Time will tell, obviously, how it plays out, but as more and more fleets come forward with success stories like these, it may not be your choice, for both better and for worse.