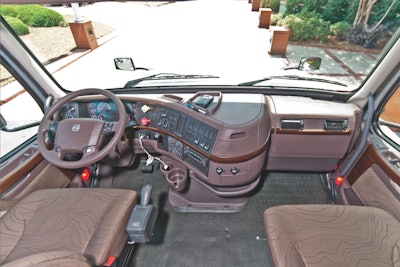 Modern trucks are designed to help fleets and drivers be more productive and more profitable. They're also filled to the brim with safety features designed to help make drivers' jobs easier and safer than ever.
But what good are they if you don't use them or don't know how to use them?
That's the basic premise of a column I wrote on our sister site CCJ. In my role as equipment editor for both Overdrive and CCJ, I get the chance to do test drives with all of the major OEMs periodically throughout the year and check out the latest technology each has put into their new trucks.

I took a drive last year in Volvo's VNL 670 tractor, and Frank Bio, Volvo's North American product manager, gave me a rundown of all of the truck's systems, going in depth about the great lengths the truck manufacturer went through to make drivers safer and more productive.
Here's the question I have for drivers: Do you know these systems are in place, and do you know how to get the maximum use out of them?
These systems save time and money, and nothing affects the bottom line of any operation — whether it's a one-truck owner-operator or a 500-truck fleet — like time and money.
Click here to see my full write-up on fleets taking the time to teach their drivers how to use the systems, but you should take the time to learn and use all of the available features on your truck, too — It could make your business more profitable and, potentially, your operation a little safer.