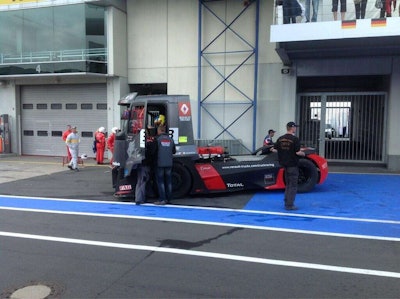 I spent last week in the U.K. and Germany with Meritor's Commercial Vehicle Brake Division, learning about how this American company currently competes and plans to continuing competing on the global stage. What I saw was a company totally committed to examining and refining every aspect of its operations, from the products they sell to the processes that develop and manufacture those components to the management systems that help them distribute, promote and sell them. Interestingly, one vital aspect of this impressive overall effort can be found on the raceways of Europe.
Much like automotive manufacturers did here in the States back in the '50s and '60s, Meritor is a highly visible and active participant in the European Truck Racing series; clearly believing in the old adage, "Win on Sunday, Sell on Monday."
Truck racing is very popular in Europe. And according to Truck Racing Director Tony Iddon, it is the second most popular motor sport in Europe today, routinely drawing crowds of up to 30,000 to watch a full weekend of racing.
The overall atmosphere at these races is friendly and family-oriented with eye toward building appreciation for the European Class 8 cabovers both on the course and out on the highways of Europe hauling goods every day.
And while the folks at Meritor at certainly 100 percent behind the trucking-friendly message, their participation is a bit more serious in nature.
Much like NASCAR in the Old Days, all European race trucks are required to compete with stock/standard parts on the vehicle. No non-standard or custom equipment or components are allowed. Which means that the race environment is a dream world come to life for Meritor design engineers, who not only get to work closely with the race teams that use their products, they also get to observe, test and validate the performance of their heavy-duty truck brake products in an environment that can best be described as "hellish."
European race trucks do not run on full oval tracks. They run on road courses with hills and tight turns that require extremely aggressive braking by the drivers to remain on the course and competitive. The conditions inflicted on brake parts are so extreme, the trucks carry 80 liters (about 20 gallons) of water to help cool the brakes and keep them functioning properly during a race.
The results have made the folks at Meritor justifiably proud: The company has logged thousands of track miles without a single brake failure and gained reams of valuable data in the bargain.
There is talk of bringing Big Rig Racing to the States. And whether it happens or not, it's interesting and reassuring to know that Meritor is out there competing with the products truck drivers and fleets around the world depend on day in and day out to keep themselves – and the rest of us – safe.