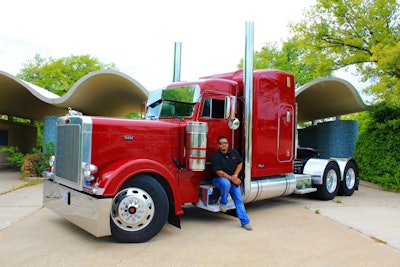 It's tough enough – and costly enough – to customize a working truck to a respectable level. It's even tougher when your work takes your rig off-road and you're doing heavy-haul freight.
That's the case for Eric Lazos of Mustang, Okla. In the five years he's had Big Bertha, a 1999 Peterbilt 379, he's put a lot of love into it and still crosses the country to serve oil and gas fields.
Bertha was customized by Beatty Body Works of Oklahoma City. The work included bumper, headlights, billet grille, 8-inch stacks, drop visor, custom headache rack, mirror brackets and panels lowering the cab and sleeper.
Lazos installed some Pittsburgh Power modifications for the Detroit Diesel Series 60. Other mechanical upgrades were done by Modern Diesel Service.
Lazos says he hopes to one day enter a show truck competition, preferably Pride & Polish at the Great American Trucking Show in Dallas, though he says he won't be able to make this 2013 show in August.
In the meantime, at a glance it appears that he's in the rare class of those who can keep an off-road truck in stellar condition.
"Some of the things we go through, it makes it hard to stay on top of," says Lazos, who's leased to Northwest logistics, based in Oklahoma City.
His hauls go to "where the hot spots are," such as West Virginia, Pennsylvania, North Dakota and Oklahoma. The money's good, too — averaging $2.50 per mile, including deadhead, for hauling natural gas compressors and coolers.
And how about the name, Big Bertha? It's inherited.
"It's been in the family several years," Lazos says. "My uncle brought it brand new. Then my dad bought it." His father always called it Big Bertha, Lazos said, so "I stuck with that name myself."