The new DOT chief, Anthony Fox, to his credit announced a proposed rule this week that would eliminate the requirement for filing a Driver Vehicle Inspection Report when no defects are found with truck or trailer. The Federal Motor Carrier Safety Administration says no-defect DVIRs account for 95 percent of the filings.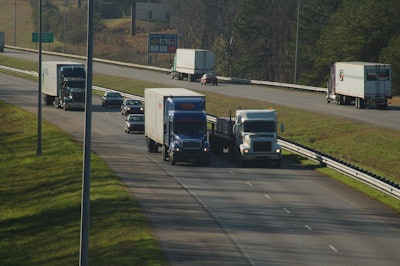 Anything that reduces red tape in trucking is a good thing. This same step was taken last year with a comparable requirement for truck drivers operating intermodal equipment trailers used for transporting containerized cargo.
DOT says this newly proposed rule will save the industry $1.7 billion a year in paperwork costs. That grandiose total represents 46.7 million hours saved × $36 per hour.
The $36 comes from "a base wage of $18.24, fringe benefits of 55 percent, and overhead of 27 percent." This appears to be based on company driver averages, since no one's giving owner-operators fringe benefits that amount to 55 percent of their revenue.
It gets much hairier if you try to trace the computations even further. Should you care to read the rule, note pages 5, 18 and 25-27 for more math background. The data is partly based on a "Truck Costing Model developed by the Upper Great Plains Transportation Institute Berwick," says one footnote.
It doesn't seem like this level of research is required to determine that yes, it would be more efficient to eliminate filing a form that is virtually meaningless.
Some of that that $1.7 billion would be efficiency gains for fleets, but the rest is more productive time for drivers. Here's what the rule says about the actual pencil-pushing time: "The first step, filling out a DVIR is estimated to take 2 minutes, 30 seconds. The second step, reviewing and signing a DVIR is estimated to take 20 seconds when defects are reported and 5 seconds when no defects are reported."
How much time would this rule save you? And would that actually translate into more driving time and more income?