Gerry Bisaillon had worked quite a few accident scenes in his years of service with volunteer fire departments. Little did he expect that one pre-dawn January morning he was about to trade places and become the victim.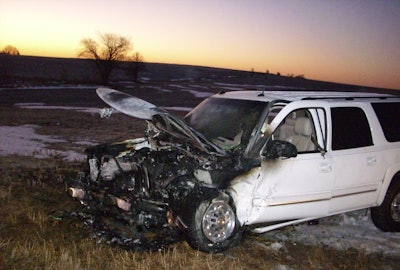 Last January, he was driving to his mother-in-law's house to drop off his daughters for day care. "This morning the roads were absolutely treacherous," he recalled. It wasn't just patches of ice, but "sheer black ice." It was so bad that Bisaillon, 42, a member of the Yutan Volunteer Fire Dept., emailed local fire departments to warn them.
After dropping his daughters, he was driving on Highway 92, just west of Omaha, Neb., when he noticed the headlights of an oncoming vehicle were drifting his way. "I started to move my vehicle to the soft shoulder," he said, but soon realized that wasn't going to be far enough.
"I can remember the impact, but after that point I don't remember what happened," Bisaillon said. As someone tried to pull him through the broken driver's window, he regained consciousness and saw that his sport utility's  front end was on fire.
"I remember being pulled through the window. I remember my shoe was stuck in the floorboard," he said. "As I got out through the window, I remember saying something about the shoe, but the response was 'Never mind about your shoe.'"
As he rested on the bed of a pickup truck, he realized he had a strong concussion and was bleeding, "though I didn't feel like I was tremendously broken up."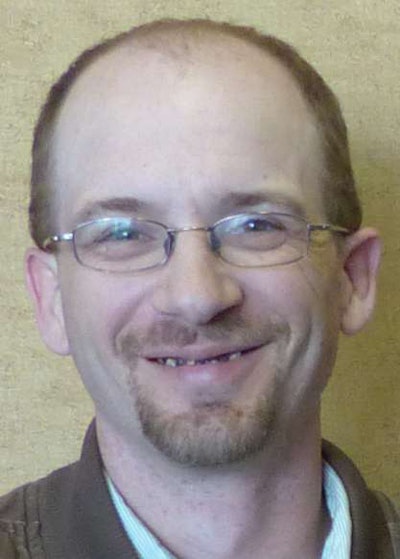 Within a minute of his exit, the flames had spread to the front seat. At that point, the Mead Volunteer Fire Department arrived and extinguished the fire.
Later, after being treated for his injuries, he learned that no one knew the name of the trucker who pulled him out of his vehicle or the name of the driver's carrier.
Knowing that the rescue vehicles are equipped with video cameras, Bisaillon reviewed the video files. One showed a truck cab with Dart Transit's logo.  Bisaillon, who deals with Dart through his job in intermodal shipping for Union Pacific, contacted Dart. Officials there determined who was driving in that area on that date: Brandon Walker.
When they spoke on the phone, Bisaillon "expressed my deepest gratitude," he said.  "If it wasn't for the quick thinking, the quick action, I could have easily been trapped in the vehicle while it was on fire."
Walker was named a Highway Angel by the Truckload Carriers Association for his actions. You can hear him describe the rescue, as well as view rescue vehicle video and an illustrated version of Walker's account, in this Overdrive Knight of the Road video.
<
[youtube dht6yWgNcoA nolink]