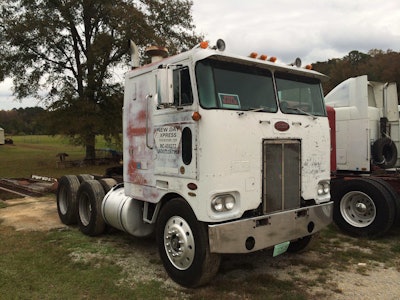 A friend of mine – a fellow trucking journalist I'm sure some of you know – has been looking for an old cabover tractor to restore for some time now. Not long ago, he reminded us of his never-ending search on Facebook. And I made a note to myself to keep an eye out
A couple of weeks ago, I took a day off and drove out of town to the state rifle range to sight my rifle in. On the way back from the range, I spotted an old cabover sitting in a small fleet's yard. And thinking of my buddy, I decided to pull in and check the battered old truck out.
As luck would have it, the fleet owner was around and we got to talking about the old rig. It was a '76 Peterbilt with an all-aluminum body. And all things considered, it was in pretty good shape. Climbing up into the cab was an instant nostalgia trip back to the "Me Decade," with brown leather upholstery, faux wood grain trim, an overhead, side-ways mounted 8-track stereo and a doghouse in the middle big enough to bed a Great Dane down in.
The owner had recently gone through the running gear with his son: The Detroit engine, transmission and suspension had all been redone. The old Pete had been a Penske truck in its first life, he told me. Which meant it had been well taken care of. The restoration had been relatively easy and he assured me it ran, rode and drove great. And, by the way, there was another '76 Pete toward the back of the lot that was for sale, too. It had run great last time he checked – about 15 years ago – and he was meaning to get to work on it soon one of these days.
Trucks, we all know, lead tough, self-destructive lives. Usually, there's not much left of one by the time it reaches the end of its useful days. So it's really nice to see folks take the time and trouble to get these old rigs alive. Especially when you consider that the financial return on that time and labor is going to be minimal, at best.
My buddy passed on that '76 Pete, saying the $5K price tag was too rich for his blood. But who knows: maybe fate will smile on that old road warrior and it'll find its way into right set of hands one day and get a full restoration or even a berth in a museum somewhere.