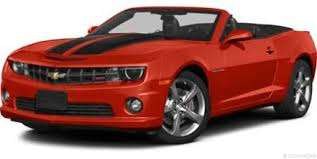 General Motors last week announced it is recalling 18,941 Chevrolet Camaros for violating Federal Motor Safety Standard No. 208 – a statute that regulates Occupant Crash Protection.
The problem? The air bag warning label on the cars' sun visor may peel. Now, before I sat down to dash this little blog out, I took a second and ran an internet search to see how much a new Camaro costs. According to the trusty Google, you can get a base model V-6 Camaro for about $25,000.
Now, I don't believe that for one damn minute. Camaros are pretty popular. So I'd figure on paying closer to $30 grand if you're in the market for one. But regardless, for that kind of money, nothing on the car – and I mean absolutely nothing – should be peeling or fading or coming loose for a very, very long time. But hey – stuff happens, right?
So why the recall?
Well, according to the government's reasoning, this is actually a big deal. The argument goes that if the air bag warning label detaches from the visor, the driver and front seat passenger may not be warned of the risks of air bag deployment.
This apparently is the kind of crisis the National Highway and Transportation Safety Agency lives for. So, the agency's Executive Field Action Decision Committee, following a review by the Field Performance Evaluation Review Committee determined that Chevy is in noncompliance of the requirement that the visor label be "permanently affixed."
GM also issued a stop delivery order to dealers, and instructed them to inspect the label on each sun visor ("using a finger nail, plastic card, or similar" to determine proper adhesion). In the event a label is prone to peel, the entire sun visor must be scrapped and replaced.
So, General Motors is now required under NHTSA rules to initiate a recall of 18,941 vehicles because these labels might peel. And it doesn't matter that the labels are sitting there not peeling. Because if somebody with a fingernail or a plastic card comes along and makes them peel, then the car's got to go in and have its sun visor replaced.
Now, let me go on record and say that I think regulations aren't necessarily a bad thing. There are a lot of common sense regulations out there that help average Americans keep from being scammed and taken advantage of. The problem is that governments – and politicians – love regulations. There's no word if GM will incur a fine for using crappy glue on its air bag warning labels. But I wouldn't be surprised if they get shaken down for some cash as a result of all this.
There's no telling what this little fiasco is going to cost GM. But, being good capitalists, you can bet the company will figure out a way to pass those costs on to the consumer. And next year, the base price of a Camaro will be just a little more out of reach for the average American. It makes you wonder who the real winner in this whole sorry story is? Because I don't think it's the average American.