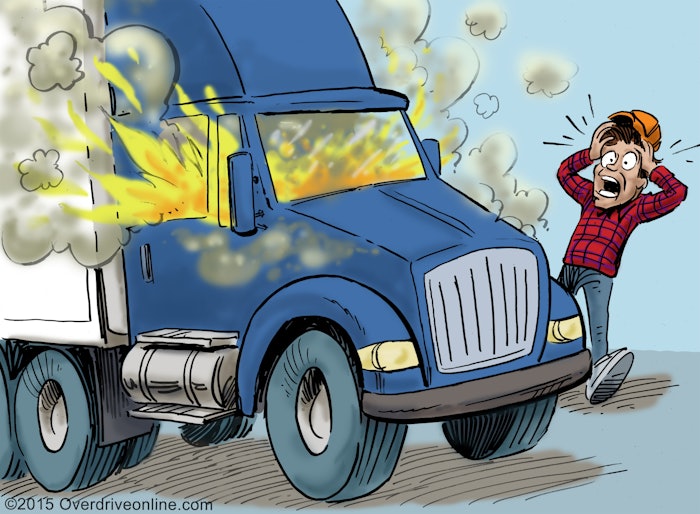 You're rolling down the road when you smell something burning. Is it outside the truck? Under the hood? Even closer?
Next, you see smoke. Yep, where there's smoke, there's probably fire. It's time to take action. Here are seven key points to read, or you can settle for our handy 30-Second Trucker Tip video series to get the quickie, illustrated version:
What to do
Park away from anything that's flammable, such as other vehicles or a fuel station. Turn off the engine, and call 911.
If you can disconnect the trailer safely, do so.
You should have a charged fire extinguisher (as required by Federal Motor Carrier Safety Regulations), so use it, but note the exceptions below. If you're hauling hazmat, you should carry an extinguisher rated 10BC.
If it appears to be an engine fire, keep the hood closed to minimize airflow to the combustion.
Likewise, if it's a cargo fire inside a van, keep the trailer doors closed.
If a tire is burning, it can't be put out with water or a fire extinguisher, so throw sand or dirt on it until help arrives.
You can use water on most any other burning substance, but not on an electrical or gasoline fire.
Tips on using a fire extinguisher
Read the directions before an emergency.
Stand as far back from the fire as possible, upwind so the wind helps carry the spray.
Aim at the base of the fire, not the flames.
Continue until whatever was burning has cooled. Absence of smoke or flames does not mean the fire cannot restart.
And if you have no fire extinguisher or water, you can use any nonflammable liquid that's handy. One off-duty firefighter attending to a truck fire used some of the truck's cargo – beer.
Tips on preventing a fire
Periodically check your fire extinguisher to make sure it is charged fully and mounted properly.
Keep an eye on gauges for signs of overheating.
Exercise caution with hot pots, cigarettes, flares, underinflated tires and loose fuel connections.
Thanks to Truckingtruth.com, OSHA, USFA/FEMA for providing expertise in this area.