I once dropped my car off for repair late on a Friday afternoon in August. The shop didn't check it until Monday, when I received a call.
"Mr. Heine, have you been missing a yellow cat?"
As you might be guessing, the repairman had solved two unknowns at once. One was the location of poor kitty's remains, which he assured me was evident before lifting the hood, following a slow-roast weekend in the Alabama sun. The second was the cause of my mechanical problem: a fan belt unable to move due to a feline obstruction.
I soon learned this is not that uncommon. Cats and other animals looking for a warm, secluded place to nap sometimes climb under the hood of parked vehicles, including heavy-duty trucks. The other creatures include snakes, as has been evidenced on OverdriveOnline recently.
This advice from wikihow.com elaborates:
"Be sure to not take too long getting into your car, if it is parked outdoors, because snakes like to go underneath cars to stay protected from the open air and still have contact with the warm asphalt. If you are standing there, the snake may see your feet and confuse them with a rat, and then you would have a snake biting your feet."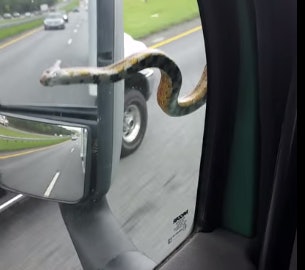 Many of those that prefer the engine to the pavement apparently get curious about slithering even further up. If you scan the 10 photos of snakes in or on vehicles in this video, you'll see that many appear on windshields.
That was exactly the case in a fascinating truck video making the rounds last week. Made while driving, it shows a snake writhing on the windshield like a wiper tripping on acid, then finally disappearing back under the hood.
Earlier this year Overdrive weighed in on the topic when we published a piece on what to do if you find a snake in your cab or trailer. It was the first installment in the second round of our Worst Case Trucking Scenarios. You can read that and scan comments from other readers with snake stories. Here is the accompanying 30-second video for it:
One reader, Deborah Kunic, responded to that scenario with a tale about her son, Seth Kunic, who hauls aggregates with a Peterbilt, for Mike Cole Farms in Santa Margarita, Calif.
"He had just come back to the ranch after work last summer, driving his big pickup," Deborah writes. "It was really hot and maybe the rattler was looking for shade (they're not all that smart)."
"He had stopped his truck on our road to check something, and as he turned around to get in he saw a large rattlesnake … slither up into the running gear right under the cab and disappear! With some haste he drove the rest of the way in to the ranch and parked the rig down in the sand arena… He smoothed out the sand all the way around the rig so he would know if the snake left. Sure enough, the next morning there was a slither trail from the cab and across the sand to points unknown."
Smart thinking, Seth!
Another pickup owner wrote to the old NPR show "Car Talk" to share a story and photo of a snake in his cab. To which one commenter posted: "That's a male snake. How can I tell? It's pressing on the accelerator!"
Any other readers with snake tales?