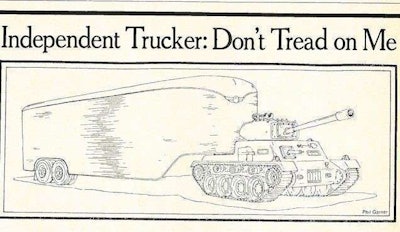 Overdrive's Rearview series is a new recurring monthly feature taking a historical look at the trucking industry through the lens of archived editions of Overdrive.
From the early 1960s to the early '80s, rarely did an issue of Overdrive leave the printer without one or more articles accusing the powerful International Brotherhood of Teamsters of widespread corruption, misuse of truckers' dues and violent bullying tactics aimed at its detractors.
Overdrive founder Mike Parkhurst painted the Teamsters' efforts to unionize all truckers as bad for owner-operators and their quest for greater independence.
Parkhurst's articles and editorials portrayed Teamsters leaders as overindulgent leeches and claimed that money set aside for truckers' pensions was used on gambling, prostitutes, organized crime, expensive golf games and sucking up to political elites. Teamsters' officials were characterized as gluttonous and out of touch with the laborers they claimed to represent.
The disappearance of Teamsters head Jimmy Hoffa in 1975, combined with deregulation of the trucking industry in 1980, undercut the union's power. After decades of fraud at high levels, it was hit hard by regulators with sanctions and fines. For 25 years, the Teamsters and its finances were closely monitored by the federal government, a practice that ended just two years ago.