If you've been thinking about trading up but haven't taken a close look at the used truck market, you might want to carve out some time. Too many used trucks are gathering dust on dealer lots. Smart dealers are facing the hard truth that they need to sacrifice some of their expected profits to get fresh inventory and make room for trades that reflect current rates.
The problem began in mid-2015, reports Overdrive's sister magazine Successful Dealer. Too many trucks bought right after the recession have entered the used market, says Chris Visser, senior analyst with J.D. Power Valuation Services. Many are aerodynamic fleet-spec'd models.
An influx of 3- to 5-year-old sleepers has swollen inventories at many dealers.The glut of trucks hit the auctions first, Visser says. "It took dealers six to eight months to realize the supply had changed," he says. "They lowered prices to compensate."
By January 2017, retail prices for 3- to 5-year-old sleeper tractors averaged $65,910. That was $7,412 lower than the same group a year ago, and with 2.2 percent fewer miles.
The used truck market could get more bloated before it levels out. Arrow Truck Sales President Steve Clough said in September he expects the number of trucks coming into the used market for the first time "will probably peak in 2019 or 2020." J.D. Power's NADA report agrees: "The potential returning supply of 3- to 5-year-old trucks is an unavoidable factor that will limit the magnitude of pricing improvements until at least 2019."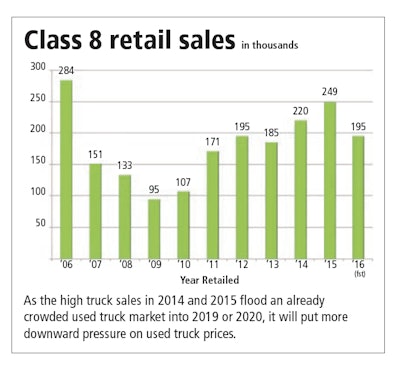 On the other hand, positive economic developments since the election could be moving things in the other direction. NADA forecasts that improving demand "should make 2017 a better year than 2016." An ACT Research report showed used Class 8 same-dealer sales volumes starting 2017 on a high note, up considerably over a weak January 2016.
The decline in sales of new trucks in 2016 could indirectly help the used truck market, says Craig Kendall, president of the Used Truck Association. "My take is '17, barring something bad, the longer we go, the better the year will be for dealers," he says.
It's hard to say if these are the early stirrings of a true turnaround in owner-operators' favor or just a distraction. Even if things are changing, it won't happen overnight.
"There are some dealers that have frankly over-invested in trucks, and there is going to be some pain there," Kendall says.
Their pain could be your gain.