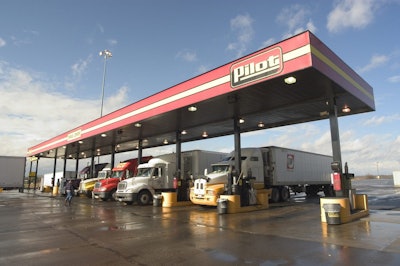 Just shy of five years ago, federal agents with the IRS and the FBI raided the Knoxville, Tennessee, headquarters of Pilot Flying J, ordering employees not essential to daily operations to leave the premises, while the agents pilfered company documents and grabbed files from company computers.
That afternoon, April 15, 2013, it was unclear what the agents were looking for or what crimes Pilot and its employees were suspected of; the only concrete news was that its Knoxville headquarters were on lockdown. Three days later, court documents detailing the alleged crimes became public. The documents purported a sophisticated scam carried out by Pilot sales staffers and their assistants that authorities said intentionally cheated trucking companies out of millions of dollars owed to them by Pilot Flying J.
The accusations reverberated industry wide, shaking one of the industry's largest and most vital suppliers of diesel fuel.
Now, however, with this month's news that the company's former president, Mark Hazelwood, had been found guilty of fraud and conspiracy and likely faces a jail term (sentencing is slated for June 27), the company appears on the cusp of being free from the ongoing legal woes that mounted in the wake of the scandal's 2013 uncovering.
Pilot in a statement last week says it's "committed to being a great partner to trucking companies," acknowledging the steps it took in recent years to right its wrongs and absolve the civil and criminal cases brought against it.
That includes, in sum, nearly $180 million in payouts to trucking companies and in fines paid to the Department of Justice. In 2013, it agreed to an $85 million settlement with thousands of trucking companies, paying back what was owed to them along with 6 percent interest. The next year, it agreed to a $92 million settlement with federal prosecutors.
It also includes tossing the sales system that had been fraudulently exploited by company salespersons to boost their commission pay.
And in what is a vote of confidence that the company has regained the public's trust and is poised for success, Warren Buffett's Berkshire Hathaway late last year announced it would assume a controlling share — 80 percent, by 2023 — of the company's ownership. Jimmy Haslam, son of Pilot founder Jim Haslam and longtime owner of Pilot, will retain 20 percent ownership after that. FJ Management, currently a partial owner of Pilot Flying J, will withdraw its ownership by 2023.
Pilot's shuttered sales system
With the help of an internal informant, who secretly recorded conversations and meetings within Pilot headquarters over the course of a two-year period in cooperation with the federal investigators, authorities learned that Pilot's sales team had been running a scam that targeted trucking companies deemed by Pilot "too unsophisticated" to notice they were being cheated.
Obviously, the carriers aren't to blame. Pilot's system for entering into diesel contracts with its fleet customers was complex, making it ripe for errors — and ripe for twisting. In short, the system promised customers a discount on their diesel fuel purchases. The customers would buy diesel at the pump, and Pilot would cut them a check for the difference between the at-pump prices and the prices stipulated by each customers' contract. However, Pilot would often fudge the numbers, still cutting a check to the diesel customers, though for less than what they were owed.
Pilot has since shuttered the manual tabulation of these rebate checks, moving to a system with more built-in accountability, the company said in 2013 and again in a statement last week: "[Pilot] made policy, procedure and staff changes to make sure nothing like this ever happens again," a Pilot spokesperson said.
Though sentencing still awaits Hazelwood, the company is now poised to move out from the shadows of the saga that has plagued it for a half decade.