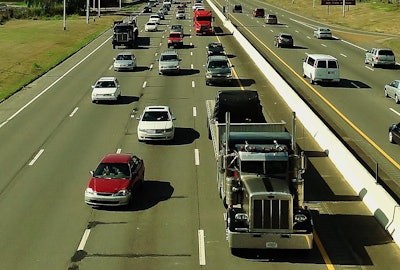 An ongoing, and until now mostly subdued, feud between two of the country's top trucking trade associations became a food fight this week.
A report from logistics journal DC Velocity (the only outlet I can find to report it first hand) quotes American Trucking Associations President and CEO Chris Spear as claiming people with "OOIDA interests" have made death threats against him and bomb threats against ATA offices, among other accusations.
ATA wouldn't offer any further specifics when contacted by my colleague David Hollis, editor of Truckers News, a sister publication of Overdrive. Nor did association spokesperson Sean McNally provide insight as to why Spear alleged the threats were connected to OOIDA.
"Of OOIDA interests" is broad, of course, and a reckless accusation to level at OOIDA, even if the perpetrators of the threats did happen to be OOIDA members. To use an oft-cited disclaimer: membership of an organization doesn't translate to acting on behalf of the organization. For instance, should an ATA member commit a crime, I doubt ATA would take any blame for it.
If the accusations truly were connected to OOIDA headquarters, ATA should stand behind the claims. But McNally didn't clarify when asked about the connection via email. He did say that ATA had referred some of the threats to authorities and that the association has bolstered security because of them. OOIDA in a statement called Spear's claims of an OOIDA connection to the threats "patently false."
Spear's comments aside, OOIDA isn't blameless in the ongoing spat between the two groups. Earlier this year, referring to an ATA-organized event in which a group of drivers for ATA-member fleets met with President Trump at the White House, OOIDA scoffed while launching something of a trucking round of authenticity wars, implying the drivers weren't "real truckers." It then took the implication to explication, initiating a campaign organized around the #MeetRealTruckers hashtag calling for the president to take a meeting with OOIDA members.
ATA and OOIDA represent different populations within a diverse industry, and it makes perfect sense that they'd pursue different policies. The two diverged greatly on the electronic logging device mandate, speed limiters and other issues over the past few years, surely contributing to the current at-arms dynamic between them.
However, at a time when the industry seems at least in some ways to be coalescing around a few pressing issues — need for hours of service reform, a lack of parking and battered highways, to name a few — the groups only stand to hang their members out to dry by continuing to throw punches.
That's not meant to minimize the threats made to Spear and ATA. Nor is it meant to say the two should drop all other lobbying efforts and solely pursue those issues.
But when the groups are fighting each other, they're devoting resources and time away from efforts to fix hours of service, nab much-needed infrastructure spending and expand safe truck parking.