This the latest from "Long Haul Paul" Marhoefer is "mostly true," the tale-spinner says. Some names have been changed to protect the innocent.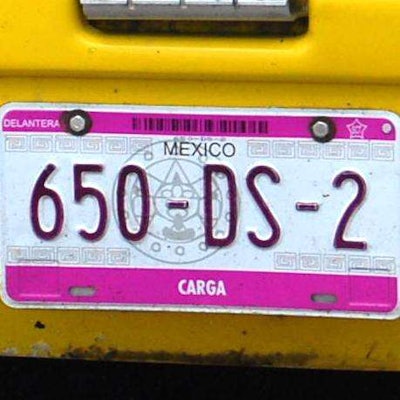 It was one of those broker loads that paid well, with a catch. Eight picks, one drop — empty Dos Equis beer kegs. The shippers were beer distributors ranging from New England on down the Eastern seaboard to Jersey.
The consignee, a warehouse in Laredo. My long time dispatcher Bobby S. said, "Not scheduled to come off 'til Monday, but they'll be in there Saturday morning. Just do the best you can. Maybe we can scare something up out of there over the weekend."
For Bobby, "Just do the best you can" was, circa 1995, a coded phrase. Translation: "Now go out there and do what they say can't be done."
Bobby, they're just now finished loading me, and I'm not sure I can make it to Boston by 10 in the morning. It's 800 miles.
Bobby: Just do the best you can.
Or: Bobby, I'm 3,000 pounds over gross, and the loading crew just split for the weekend while I was weighing.
Bobby: Just do the best you can.
You get the drift. Bobby was an ex-driver who, through some opaque set of circumstances, became lead dispatcher. Bobby's go-to explanation was a ruptured disc. Others said he got a DUI on his way home from a company function, namely drinking with our CEO, Big Ed. Harold, the oldest among our drivers, called Bobby "Mr. Positive" in a sardonic tone, and there were whispers of a failed drug test, in which the one-time driver tested positive for cocaine.
When you work for an old boy with a string of Petes like Big Ed,who hires dispatchers like Bobby, such accounts are always fragmented and clouded with rumors. Turnover rates are usually high at such companies, and I made up my mind to know as little as possible about anyone there. I needed work, didn't care how I got it, and guys like Bobby were my willing enablers. How he got there was no concern to me. To me, Bobby was a good dispatcher.
The empty kegs went on easy enough. Most of the distributors were tickled to get them out of their way. By the morning of the second day, I was southbound and loaded. That Wednesday afternoon, on my way out of Jersey, I stopped at the Paulsboro TA for a cup of extreme and found a conversational Spanish course on cassette that had been reduced to $12.99. I'd been to Laredo too many times, seen the Anglos wait for hours while the Spanish speakers moved to the head of the line. A nobody gringo like me with a broker load from God knows where would be sitting there until Monday. There would be no chance of getting unloaded Saturday unless I could show a little courtesy towards the lingua franca. The tolls had eaten me alive the past two days, and funds were low.
Still, I set my coffee and newfound project on the diesel desk, paid up, and drove on.
It was a wonderful course. There was a cartoon with a little story on each page with written captions accompanying real-life situations. The cassette offered dramatizations of each vignette so you could hear the correct pronunciation of each conversation. You were engaging with your eyes and ears, with a corresponding picture to lock the conversation in your mind.
I still miss cassettes. You could rewind them. They didn't scratch like CD's. We had Jackson Browne's "Running on Empty" blaring through the speakers of our '97 Lincoln Town Car just the other day, on cassette. After a couple hundred rewinds and pronunciation attempts, I was gaining on conversational Spanish. I come from a family people used to describe as "verbal." My oldest brother spoke 12 languages by the time he graduated college. My second oldest brother was valedictorian of his law school. One sister is a librarian, the other a school teacher. Despite being kind of a family black sheep who only panned out as a trucker and, quite frankly, incompetent at nearly every other area of life, I'm OK at words. Sometimes.
By the time I made Laredo, I had about five sentences down in recognizable Spanish, and was able to talk a reluctant receiver into unloading me, mostly in his own language. By 11:30 a.m., the forklift driver was chatting up a storm to me in his mother tongue, like I was part of the family. It was exhilarating, even though I understood little of it.
Sadly, though, my hopes of an instant reload were dashed. "Sorry, hand" — Bobby was one of those dispatchers who always called you hand — "I was afraid to pull the trigger on a load for fear those Mexicans would screw us over at the last minute."
It was an old dispatch technique — create a common enemy; in this case, the Mexicans. Of course, yes, anyone could see the prudence in his position. (You can sense the sarcasm.) So I hung up, sighed, and headed for the only truck stop in town at the time.
Upon learning I would be spending the weekend in Laredo, armed and cocky with my five new sentences of Spanish, I made my way to the old place on Santa Maria Avenue, locked the truck up tight, hoofed it over to the Walmart bus stop and boarded the bus to the Mexican border.
My wife isn't much for ornate Western boots. She likes the Justin Fatbabies, the ropers, the good low-heeled work boots. I had found her some knockoffs for just $20 in Nuevo Laredo the last trip I had time to kill there. About a year before. She was due for another pair. I was going back over, except this time it would all be in Spanish.
The Spanish word for boots is botas, pronounced boat – ahs, like a boat you row. On my way to the border, as I rode on the bus, I rehearsed my line in a whisper. Buenas tardes, Senorita, buscando botas para mi esposa, meaning, Good afternoon, Miss, I'm looking for some boots for my wife. Simple enough.
Then something terrible happened to the sentence as I repeated it over and over. The English seeped back in there, and botas mistakingly became bootahs. Now, the word bootahs when pronounced in Spanish sounds more like the Spanish word for female dogs. I know that now.
When I arrived at my first store, unbeknownst to me, what the 14-year-old daughter of the zapateria owner heard was Good afternoon, Miss, I'm looking for some [slang for female dogs] for my wife.
For some reason, she and the next two attendants I spoke to would leave immediately and return with their dads, three of the sternest-looking mustached gentlemen I have ever seen. None of them seemed interested at all in doing business, so I just took my money elsewhere. At least I assume they were their dads. One I know for a fact was her dad, because he said to me, "This is my daughter, Senor!" Real strong-like.
I passed a sign — HAIRCUTS, $4. How could I go wrong there? The barber lady was really nice, a pretty 40-something who seemed delighted I was there. She was a great barber with impeccable English. She said, "So, what brings you to Mexico?"
Wishing to impress her with my Spanish: "Buscando bootahs para mi esposa."
Why, you never saw the color drain from a woman's face like that in your life. She stopped, wheeled around and put her hands on her hips. I began pointing at my own boots — "Bootahs? Bootahs? "
"No! Botas! Botas!" she answered, and made me repeat it three times. After that, there was a marked improvement in the service I received at the shoe stores in Nuevo Laredo.
End result: I found my wife some beautiful low-heeled ranch boots for $27, boarded the bus back to the Santa Maria truck stop, feasted on the Mexican cuisine there (which always redeemed the place as the lovable dump it was), and trudged out to my truck for the night.
Reflecting on the events of the day as dusk fell, I felt a deep satisfaction. I had delivered my load two days before it was due, had conferred upon myself an advantage with a receiver which had not existed in the past, had fallen down in Mexico, and with the help of that beautiful barber had gotten back up again. I loved Laredo, its pulsating energy, the press of trucks. It was the fastest-growing city in the United States. All it really lacked was a modern truck stop. It was rumored that the old Don who owned the Santa Maria had political power, and had blocked the chain truck stops from coming in for years.
Seated behind the wheel, I lit up a Lucky, full and satisfied. The security light from the tire shop flickered on, revealing the silhouette of a statuesque Mexican bombshell leaning on a picnic table, smoking. She wore a black leotard top and a pair of dungarees in that style you only seem to see on Texas women, which conformed perfectly to the contours of her body. I guess I don't remember her shoes. It was an elegantly seductive scene, clearly visable to two-thirds of the trucks in the lot. This was pure stage mastery. She held her cigarette in that Bette Davis style that few women attain.
A stocky man approached her, removing his trucker cap in some clumsy attempt at chivalry. They walked off together into the night.