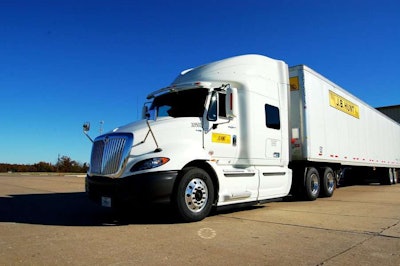 Forbes' annual list of the world's billionaires, unveiled Tuesday, includes a few who earned their fortunes in trucking — including a few who started businesses as single-truck operators, as well as those who founded or inherited large truck stop chains.
According to Forbes, the world's 2,153 billionaires are worth a combined $8.7 trillion. Here are the handful who made their billions in the trucking industry:
Tom and Judy Love, Love's Travel Stops | Estimated worth — $7 billion: Tom and Judy's namesake Love's truck stop empire started with a single stop in Oklahoma, which they first leased in 1964 for $5,000, according to Forbes. Love's stops now sprawl across the country, bringing in an estimated $16 billion a year in revenue.
Fred Smith, FedEx | $4.1 Billion: Smith founded FedEx in 1971, partially funding the company in its early years with casino winnings from Las Vegas, says Forbes. The company is now one of the largest fleets in the world.
Johnelle Hunt, J.B. Hunt | $2.8 billion: J.B. Hunt Transport Services launched in 1969 by Johnelle Hunt and her late husband J.B. as an eight-truck operations, according to Forbes. Though retired from the operation, Johnelle is still the company's largest shareholder with a 17 percent stake.
Jimmy Haslam, Pilot Flying J | $2.7 billion: Haslam, now the majority stakeholder in the NFL franchise the Cleveland Browns, began working for his father's truck stop chain, Pilot Corporation, when he was a senior in college and the company's annual sales totaled about $50 million. Last year, the company raked in nearly $20 billion. Haslam is transitioning out of majority ownership of Pilot Flying J, with Berkshire Hathway (Warren Buffett's empire) scheduled to own 80 percent of the company by 2023.
Brad Jacobs, XPO Logistics | $1.7 billion: Jacobs founded XPO in 2011 as an LTL and bulk carrier, which propelled most of his worth, according to Forbes. However, prior to XPO, Jacobs grew trash hauling carrier United Waste and sold it to Waste Management for $1.9 billion and built a giant equipment rental company.
Jerry Moyes, Swift Transportation | $1.2 billion: Moyes founded Swift Transportation in 1966 as a single-truck business, alongside his father, before growing it to an eventual 20,000-truck behemoth. Though retired, Moyes still retains a 24 percent stake in the recently merged Knight-Swift Transportation Holdings.
See a billionaire we missed? Email [email protected].