In which "Long Haul Paul" Marhoefer rounds up a few possibly overlooked superlatives, ranging back over the year as it ends. …
Best trucking album: "The Further Adventures of" … the Franklin County Trucking Company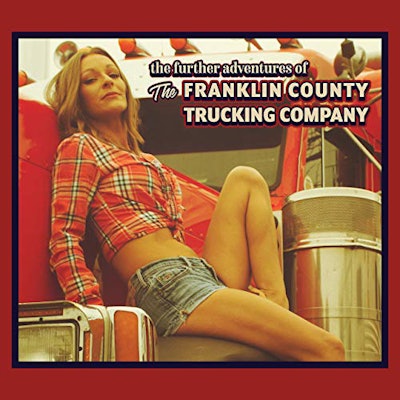 So much to love about this record:
1) The cover — a sultry blonde supine upon the fender of a fire-engine-red Pete, like an Overdrive cover circa 1973, forthrightly announcing that the Franklin County Trucking Company doesn't give a flying flip about your puny little notions of what's appropriate. This is, in the band's own words, "greasy rock and roll and sleazy trucker country," unbound by the constraints of traditional trucking music. It's a trash-talking cross-pollination of Eddie Van Halen, Eddie Rabbitt and David Allan Coe. So if you can't hang with it, keep scrolling, buttercup.
2) Its in-your-face, punked-out interpretations of gearjamming classics, such as (Little Feat's) Lowell George's "Willin'," and Rabbitt's "Driving My Life Away," which clearly demonstrate the group's place in the history of highway hymns, as well as a trove of formidable originals spanning an emotional range from a poignant portrait of a truck stop sex worker who exacts fatal revenge on her john (in the song "Perryville, Missouri") to the manic salute to the crusty conventions of the trucking-music subgenre with salty, Billy Big Rig-like characters brimming with bravado, as in "Truck Driving Bastard, Me":
"I been drivin' this truck for fifty long years, I got fifty more left to go! Rippin' cross the plains, diesel in my veins, put the pedal to the metal on the open road! Breaker breaker, listen here, I'll say it loud and clear, so y'all can plainly see: I'm the first to admit, you all ain't got sh** on this truck driving bastard, me."
3) The story behind the band. The nucleus of the group is longtime collaborators Jim Rotramel, an Illinois-based lead guitarist, and Kentucky-based local delivery driver Sean Hopkins, both leaders their own bands — Number 9 Blacktops and Dallas Alice, respectively. And, surprisingly, two accomplished musicians who have toured extensively yet still hold day jobs. With Hopkins providing lead vocals, Franklin County Trucking Company's pedigree grows like so much Kentucky kudzu from there, boasting Eddie Spaghetti (Supersuckers) on bass, Taylor Sphere from the Number 9 Blacktops on drums, and the Legendary Shack Shakers' inimitable lead man, Col. J.D. Wilkes, on harmonica.
So what you have here are four front men from four different bands and one punked-out Rockabilly drummer who lives up to the "greasy" billing. All of whom, one day on a creative lark, formed trucking music's first bona-fide super band.
From its inception, the Franklin County Trucking Company garnered the attention of Sirius XM's outlaw country jock Mojo Nixon, who had already been spinning Spaghetti and Wilkes for years. All this gave Mr. Rotramel quite a surprise one day: "I woke up one morning, and there were like thirty orders for CDs. I thought, 'Something's happened somewhere.' They were all saying things like, 'We heard you on Mojo.'"
Not bad for a couple guys who never gave up their day jobs.
Best hole-in-the-wall roadside buffet
In a world where the aggressive upsell of super-sized sugary sweets has become something of a norm for truck-stop fare, the Tiffin Indian-American Restaurant and Bar is, without a doubt, 2019's most pleasant surprise. Located just off Interstate 70 on state route 1 in Cambridge City, Indiana, in what once had been an abandoned fireworks store, the buffet, which will set you back $9.99 plus tax, features cuisine which is about as old-school as you can get. We're talking a form of cooking whose roots you can trace back to the Bronze Age — i.e. Punjabi food.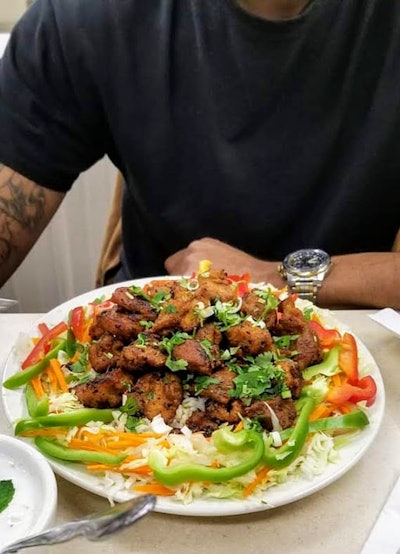 A coworker had been telling me for some time that this particular cuisine is to die for, so, in a pinch for time, I finally took the leap of faith and checked it out. What I discovered was a taste which was new to me, yet somehow familiar. For one, a dish called butter chicken, which reminded me of something my German grandmother used to make. For two, homemade flatbread kept me going back for more. Three: a type of creamed spinach, and several other dishes, all unpronounceable for this gearjammer, yet … simply wonderful.
Best truck show
Founded by cattle hauler Jason Smith and his wife, Prella, a third grade teacher from Mill Hall, Pennsylvania, the Truckers 4 Hope show began as a means of raising funds for research for cystic fibrosis, a disease which touched their son Hayze. The outpouring of support from this tight-knit community of truckers and everyday folks from the area continues to be a thing of beauty, yielding a total of $18,000 all told for the year, as well as a Norman Rockwell vision of an America which, frankly, I believed no longer existed.
I want to issue the following disclaimer, here: I was hired to do a concert at Truckers 4 Hope in 2019; but people, if you want to know the best place to have your wedding reception, ask a wedding singer.
What I absolutely love about this show is its fierce commitment to a family-friendly atmosphere, with attractions geared toward kids, including kiddie tractor pulls, action characters such as Spider Man out greeting guests, and Optimus Prime on board to help raise funds.
You can still buy a meal and a drink here for about eight or nine bucks, likewise access ample seating to dine in comfort. That's something the big boys could learn a lot from.
And … one more from the Franklin County boys to take us out …