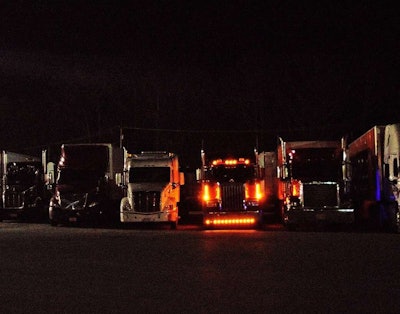 Meet Jay: He is 34 years old and in very good physical and mental health. He's not under the care of a doctor for any health issues. I've known the owner-operator since fall 2018.
He wants his experience with COVID-19 to be known so that you better understand one thing about this new virus: This can happen to anyone. (For privacy reasons, Jay didn't want to be identified with his full name.)
I talked to Jay 15 days after he fell ill in his truck while finishing up a delivery at 4 a.m., on March 20. "I need to get parked and rest," he thought as the load was coming off the truck. He "didn't realize until later how much this illness had affected my ability to focus and make decisions."
Clickhere to view our full coverage of the coronavirus' impact on the trucking industry from the leading industry publications of Commercial Carrier Journal, Overdrive, Truckers News and Trucks, Parts, Service.
What Jay then described brings to mind what others call
delirium
, often experienced with high fever – confusion, trouble remembering what you are doing.
Jay was also experiencing extreme throat pain, and some difficulty breathing, yet his sinuses were very dry — unlike any other respiratory illness he had ever experienced.
Driving to a truck stop nearby to get parked, he passed a billboard displaying information from the CDC – and the 211 community-resource phone number to call with questions or to find help locally. Unfortunately, at this stage of the game the whole heath care network was still trying to understand what they needed to prepare for. In the state where he was parked, there were only two health care sites in a large regional health care network set up to handle COVID-19 patients.
There were a limited number of available test kits, and these were being reserved primarily for people 65 and older. It would be very difficult for him to be tested where he was now self-quarantining.
In the back of his mind, too, a nagging concern that will be familiar to many of you without health insurance coverage: what any care he received might ultimately cost.
This experience has changed his view of the value and importance of finding and obtaining coverage to meet his needs in the future, but let's not get ahead of ourselves.
Three days after he fell ill and at a loss for what to do, he remembered a doctor visit he'd made two years earlier in his home area. He called that office, and began receiving assistance though the available online screening. It began with a list of questions trying to determine the extent of his illness, then a chat with a doctor, who instructed Jay to continue his self-quarantine.
Up to this point, he felt so sick he simply didn't have the strength to get out and move around, anyhow.
The doctor was able to provide prescriptions for symptom management that cost just $150. The doctor provided documentation as to his condition and recommended that he forwarded on to company contacts where he was leased.
More than two weeks after the initial onset of his illness, Jay is finally regaining his strength and will be returning in the next week to his own schedule. He was able to drive the 200 miles to his home after his fever subsided enough that he could safely drive. Here he could receive deliveries of food and personal care products and friends could check up on him.
He has decided to only haul enough to cover his salary and operating cost, with the goal of continuing to try to reduce his exposure in this high-risk situation. There isn't yet enough information known about COVID-19 and whether a person could be re-infected. He worries that those who've recovered like himself may then still spread the virus if it's picked up a second time, given what's surmised about those who show no symptoms but test positive, and the speed at which the contagion has spread.
Jay's bottom-line recommendations:
Do everything possible to reduce risk and follow the published guidelines.
Wash hands and sanitize all possible surfaces. Reduce items you carry into your truck.
Absolutely do not touch your face — a primary reason for facemask recommendations, as described to me by heath care professionals.
Eat in your truck. There are many available options that do not require refrigeration. Get creative — you may surprise yourself.
Grocery delivery services are available through several retailers and their apps. If you wish to order something freshly cooked, search for the Uber Eats app or call local restaurants and stores that have adjusted by arranging for deliveries.
Concerned about a truck stop shower? Consider using a hotel — many have truck parking available.
Trouble finding hand sanitizer? Some retailers, I've seen, may be able to make it available if you show your CDL. I'd suggest calling ahead.
Don't go see Grandma! It's probably wise to avoid going home until you've quarantined yourself to limit the risk of infecting your loved ones.