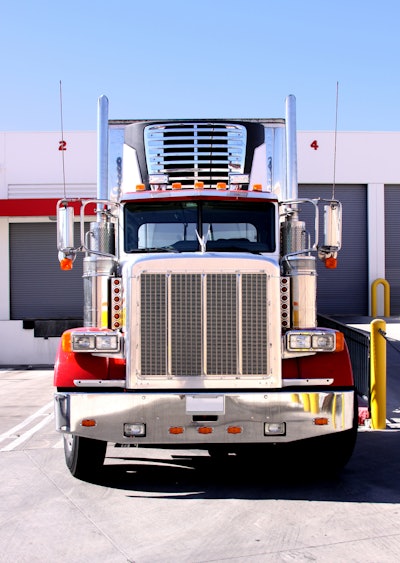 Though software provider LaneAxis has existed in some form since 2015, with its market offerings so far mostly centered on load tracking for both shippers and carriers, the company has shifted its attention to a slightly more ambitious goal: Building a platform in which small carriers can connect directly with shippers to access shipper-direct freight and, thus, sidestep brokers for load opportunities.
And it's an idea that has some momentum. The company in late May closed a crowd-funding initiative in which it raised over $1 million to use for the development and deployment of its so-named FreightLink network, which LaneAxis CEO Rick Burnett compared to a LinkedIn for shippers and carriers — or a "dating app," he said, where shippers and carriers can see one another and connect.
"We're not a brokerage and we're not a load board," he said. "It's not about posting loads. It's about building relationships," with those relationships translating to freight shipments. Shippers would have access to a broad network of carriers to move their loads, and carriers get the rate the shipper's willing to pay, without any brokerage cut.
Burnett said LaneAxis won't take a cut of loads moved. Rather, carriers can pay $5 a month to join the network. (By comparison, a platform with a somewhat similar no-broker mission, Riteload, takes a per-load flat fee.) Shippers then can pay 99 cents per any load they wish to track. In addition to load tracking, chat functionality allows shippers and carriers to remain in contact throughout the load's progress.
The network isn't yet live, but Burnett said the company is pushing to launch this July. He said his goal is to have 100,000 shippers signed up before launch.
With market conditions and poor rate offerings in recent few months causing many owner-operators to sour on their relationship with brokers at large, LaneAxis coincidentally opened its crowd-funding initiative at the right time. With looming chaos unbeknownst to the company at the time, it launched the effort for micro-investments in late February. In the weeks directly following, trucking and logistics drew much heightened awareness from the general public, and carriers' frustration would of course eventually mount against freight brokers.
"The images of empty shelves really struck a chord with a lot of people," said Andrew Rivera, LaneAxis' chief marketing officer. And with carriers "furious" with the brokerage segment, "we were unveiling our brokerless system," he said.
The effects of the COVID-19 pandemic and the need for greater distancing has accelerated interest in other tech, too. "Contactless solutions," as well as those that can help carriers and shippers be more efficient, have seen a keen interest since the onset of the pandemic, said Trent Broberg, chief operating officer of Truckstop.com. "It's going to change behaviors and change the way people do business," he said.
For instance, Brian Belcher, chief operating officer of Vector, said in April that his company saw an upswell in interest around their development of a system to digitize documents like proofs of delivery and bills of lading.
At the time, many shippers and receivers reportedly weren't exchanging necessary documents with drivers, or even letting drivers exit their trucks at facilities, thus creating chains of missing but otherwise required paperwork.
Vector already works with many fleets on back-office and document management systems, but suddenly "fleets were reaching out about this need for a system we never would have envisioned," Belcher said. The company soon began piloting a system in which communication and documents could be shared via SMS texts, though the documents would be cloud-based and accessible to fleets later when needed.
At that point, the program was in the hands of "one large shipper, one larger carrier and one larger receiver," said Belcher, with hope for around widening its net. "If it works as we're hoping," said Belcher, it would be pushed out from the piloting shipper and receiver to more carriers as they run loads for that shipper and receiver. "You don't need an app, you don't need all these integrations. Most of it can happen with a simple process via SMS."