The world's changed a lot in 60 years. Trucking is no exception.
Consider that climate-controlled, relatively quiet cab you work in, with all sorts of music and entertainment streaming through a state-of-the-art sound system. And how about that spacious, comfortable sleeper?
These amenities would have seemed as radically different in 1961 as electric-powered and semi-autonomous trucks seem today. Ditto for communication systems, logbooks, truck stops, trucking culture and more.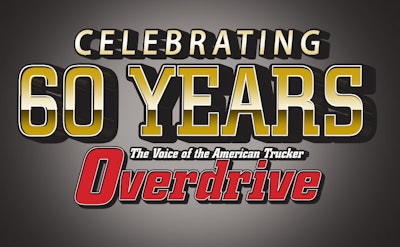 I peg 60 years because Overdrive is celebrating its 60th anniversary this year. In 1961, Mike Parkhurst sold his truck and published the first issue of Overdrive in September. It foreshadowed the rants and cartoons about Teamsters, regulators, railroads, politicians, callous fleets, truck quality and highway law enforcement that would characterize future issues.
Ever since its start, Overdrive has been an advocate for owner-operators and the things they care about. It's been "The Voice of the American Trucker," a tag carried on the cover throughout history and still used today on our website.
On Mondays throughout this year we'll feature installments about the early years of trucking and Overdrive itself. There will be stories, photos, podcasts, videos, interviews and more that will strike a chord with those who've logged millions of miles and enlighten those more on the newbie side.
And to set the mood, here's a classic trucking industry promotional film, "Singing Wheels," from the early 1940s. It's 23 minutes of trucks, truckers, docks and more, with the feel of an old movie-theater newsreel.
Enjoy – and I hope you'll join us for a year-long road trip in the trucks-only lane.