Throughout Overdrive's history, contributions to the magazine from working owner-operators and other truckers have been a primary way to keep the magazine grounded in the interests and concerns of the readership. The focus tracks all the way back to founder Mike Parkhurst, who as a young man had been an owner-operator himself before starting the magazine, to the present, where the Voices section of our website takes the place of traditional letters to the editor and working operators like Clifford Petersen and Paul Marhoefer offer their own original stories.
In 2018 another such operator, writer and photographer Don Christner, by happenstance discovered a trove of history in the area around his Cheyenne, Wyoming, home base. As he wrote:
I was driving on a gravel road here in Wyoming when the sight of a big Marmon COE unexpectedly caught my eye. I hadn't seen one in years. There were more unusual trucks in this yard, trucks from the 1970s and early 80s carefully parked in a row: The Marmon, a Diamond Reo cabover, too. A Mack Superliner, a Diamond Reo conventional and an Emeryville.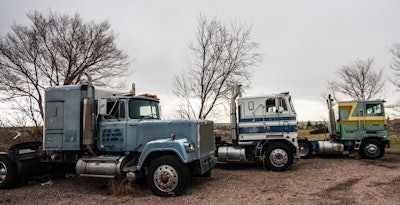 These are the trucks that were on the road when I was a young man, straight-up-honest work trucks from an era that's gone and almost forgotten. There was a freedom and a high sense of ownership and responsibility from that time that now seems gone from trucking.
I absolutely had to take pictures, but there were "NO TRESPASSING" signs everywhere. I needed permission, but didn't know who owned these trucks, and no one seemed to be at the house whenever I stopped by. And I stopped there several times in the weeks and months that followed.
Then a friend at work, Lynn McColl, and I were having coffee one morning and I told him about the trucks. "Oh, that's my cousin!" he said. He put me in touch with Machelle and Ralph Pike, daughter and son-in-law, respectively, of Junior Elmore, who owns these trucks. I was able to talk with them about the trucks, and take photos.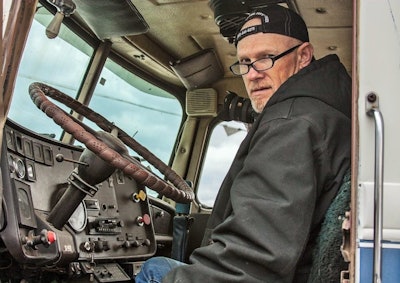 Christner would go on to chronicle the beautiful rigs on the former small fleet yard of Elmore's "Junior's Trucking & Towing" business, operational from 1966 to 1999, through close looks at several of the rigs and notes from interviews with the family. Along the way, Christner delved into his own history, and his long attraction to the trucks and businesses of men much like Elmore, all of which brought him to trucking from a young age.
Follow links in the captions to the four photos below to read more directly about each of the rigs.