Trucker-photographer Don Christner is chronicling the past and present of rigs he found parked in the former small fleet yard of Junior Elmore in Cheyenne, Wyo. The journey began two weeks back in the post at this link.
This week's installment:
Junior Elmore's daughter, Machelle, got a Wyoming chauffeur's license at 16 years old. It was a different time, with different qualifications. It was Wyoming, and she got it! 16-year-old Machelle and her dad would go cross-country, team truck driving in the Diamond Reo when it was new. I guess she could just really drive. Her mother hated trucks, and really worried that she would never grow up and be a girl.
They would go to Washington State and Idaho to haul for Taco John's. Showers at the truck stops were more like a men's locker room, so Junior would stand at the door and keep everyone out while she took a shower.
Machelle well remembers a phone call from George Markle, the Diamond Reo dealer over at Laramie, Wyo. He said he had a lazy man's truck he wanted Junior to come take a look at, a brand-new 1974 Diamond Reo conventional.
Why a "lazy man's truck?" It had a 4×4 air shift transmission.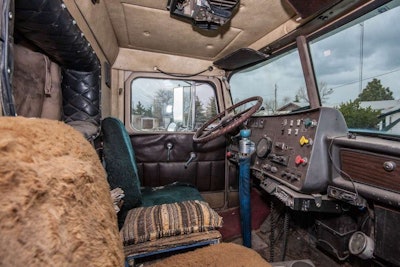 After hauling freight with it, the Elmores painted it white and had a tow-truck body put on it. Machelle ran the Reo as a tow truck, too. She and the Diamond could do it all. "We picked up everything with that truck, even overturned railroad cars from train wrecks," she says. The tow-truck body was eventually removed, and the Reo went back to hauling freight.
Junior Elmore owned many trucks over his years in business, but the Diamond Reo conventional was his favorite. At a certain point, he hired a temporary driver, Ralph Pike. Ralph married the boss's daughter and became permanent!
It is set up for cold weather operation with a starting fluid assist system that you run with a switch from the dash. (You had to know what you were doing to run that or you could blow up the motor.)
I love this truck and can't wait to see what the Diamond Reo might do in it's next life!
Next in this series: First time for Everything: Bearing witness to Junior Elmore's 1977 Marmon cabover