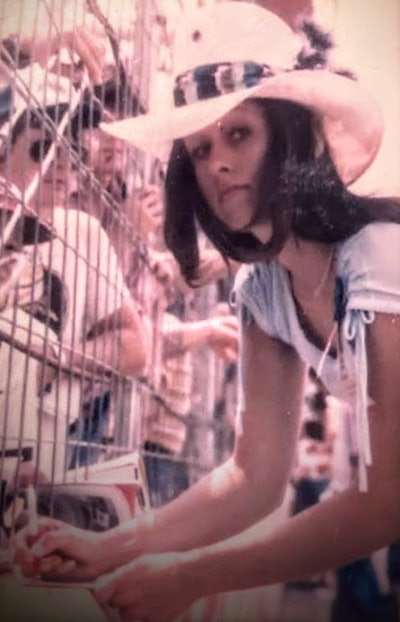 Mirah Lesa " YoYo " Worley
Retired trucker
It's been 42 years since the mixed blessing of celebrity came to Tennessee-born wildcat trucker Mirah Lesa "Yo-Yo" Worley.
The petite brunette in the big black cowboy hat was featured on the popular NBC show "Real People" in 1979. She drove a 359 Pete with a KTA 600 , 3:55 rears, and a 13 over.
That episode, which recently found its way onto Youtube, etched Ms. Worley into the iconography of trucking myth and legend. It depicts a stunning Southern belle in the prime of her youth, strutting out of a tricked-out Peterbilt, dressed to the nines in trucking boots and regalia, with a Winston Ultra Lite 100 in her hand.
You can watch her edge out the odds-on favorite, "Special K" himself, in a qualifying heat at the Atlanta International Speedway for a bobtail truck race. She was the ultimate bad-ass trucker chick of her time.
After the show aired, offers came out of the woodwork and Yo-yo became a spokesperson for Yokahama tires. Recording studios were calling. She toured the NASCAR circuit. But all that notoriety and fuss was just keeping her from the thing she enjoyed the most.
I caught up with YoYo by phone and she told me her story.
'I've been in hiding all these years.'
"I started out in '73. Pulled a reefer for 20 years. I ran Florida to California. California to Hunt's Point. Back then you had to line up outside of the market and wait for them to bring you in. We tried to park close to the truck in front of us, so they wouldn't get broke into.
"One night, J.C., the man who taught me how to drive, was the last truck in that line. He was parked behind me, protecting my load. He had on a load of frozen, delivering a few blocks from the market. He was asleep, and felt his truck rocking. He ran back there and found his doors were open. He shut them as quick as he could. By the time the cops got there, there were some [dudes] in there who were 'bout froze to death.
"J.C. was a good person. When he first taught me how to drive, we were south of Atlanta. He pulled out the throttle on that cabover Pete, crawled back in the bunk and said, "Girl, if you don't get over there and drive, there's gonna be the damnedest wreck you ever seen.' We had fun back then. We'd get out in the desert and make a train. You'd take about ten trucks. Everyone would cut their lights off except the truck in front and the truck in back. Looked just like a train going down the road.
"I worked for T and T Trucking. I was wildcattin', then, finding my own loads. If you broke down, there'd be umpteen people stopping to help you.
"My friend Art had a gorilla head he'd put on. If there was a car with kids in it, I'd let him know on the radio. Then he'd put that head on and honk his horn for those kids. By the time they'd tell their parents about it, he'd take it off real quick."
[Related: Trucker Mike Sheffield channels coal country, CB riffing with 'Hammer Down Again' album]
After the "Real People" show featuring YoYo aired, "people just kept half-aggravating me. Mama [even] said [TV show] 'Hee Haw' called and wanted me. I just got in the truck and rode."
She would eventually move and change her CB handle. She even changed her last name.
"I've been in hiding all these years. After we moved, there weren't any reefer outfits near where I lived, so I started pulling a van. I done that 10 years. Then I pulled flatbed for 10 years. I could make that tarp look like a newly wrapped Christmas present."
It has now been another 10 years since YoYo was sidelined with multiple sclerosis. Recently, her daughter Michelle set up a Facebook page in her honor, "Truckin' With YoYo, Till the End." The purpose of the group is to honor her mother's legacy, and help with medical expenses. Much like the umpteen drivers who would stop and help if you broke down back in the day, an outpouring of love has come forth from the trucking community.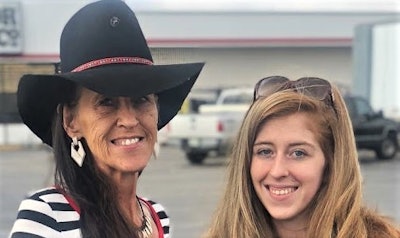 Drivers like Tony Justice, who auctioned off his cowboy hat, have joined together to pay homage to this living legend. Readers who would also like to help can go to the group's Gofundme page.
A couple weeks ago, YoYo was surprised to be featured in the Blackberry Smoke video for their latest single, "Hey Delilah."
For Mirah Lesa Worley, whose first name, she explained, is Cherokee for "runs with the wind," the hardest part of life with MS has been the loss of mobility. Now wheelchair- bound, "I still wake up every morning at six, thinking I got to beat the traffic through town."
When I asked what she's been doing in the last 10 years, her answer was simple:
"Going crazy. I told Michelle when I die, I want to be cremated, then taken out to I-40 somewhere in Tennessee. Then I want her to find an overpass where there's no on or off ramp, wait for the wind to blow Westbound, and pour me out over the road."
[Related: Faces of the Road: 45 years a team, with two independents]