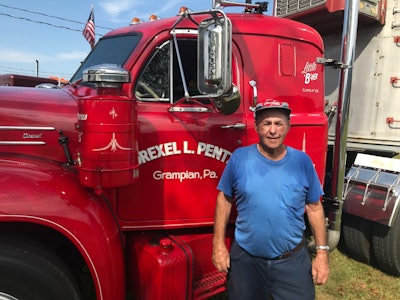 Drexel Lee Pentz
Age: 86
Past job: Coal miner
It's been a while since I met 86 year old Drexel Lee Pentz of Grampian, Pennsylvania. He was showing his 1956 Mack B61 ST (ST for Special Tractor) at the 2019 edition of the Truckers 4 Hope show in Mill Hall, Pennsylvania.
It was a pleasant but brief interview. Others had questions for the kindly octogenarian. His rare Hayward, California-built beauty with dual factory air breathers and twin stacks attracted scores of inquiries throughout the day. Still, there had to be more to the man than just this one rig, glorious though it was.
'I put 4 million miles on a B-Model, and I wasn't man enough to wear it out.'
I was finally able to reconnect with Mr. Pentz over the phone just last week. What a life he's led:
"My dad was a trucker and a coal miner. He had two little mines. He started me in at seven years old. I drove a mule. Actually, it was a pony. All I had to do was pull the cars out of the mines, and hook up and then unhook the cars. That mine was 42 inches [tall]. I learned a lot from that mule. Right before you made it out of the mine, you had to put a blinder over one of his eyes. If you didn't, he'd get confused from all the sun and try to pull away from the tracks.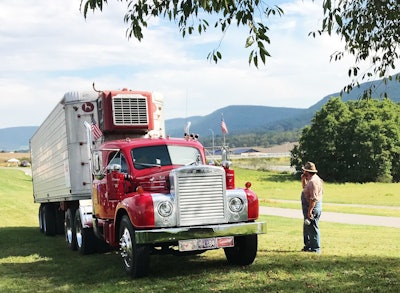 "I started trucking when I was 14. Dad had a '41 Chevy. We hauled five tons with it. Eventually, I bought it from him.
"I've always liked my trucking. It [just] isn't fun anymore. These days, they've taken all the fun out of it.
"I spent 19 years at Brown Brothers. I hauled for Clearfield Cheese. I had the utmost respect for them. They treated me really well. They was number one around here. They had a saying on all their checks: 'If you got it, a truck brought it.'
"I made my money trucking, but I had to work at it. I've always liked a B-Model Mack. I put 4 million miles on a B-Model, and I wasn't man enough to wear it out. So I sold it to my son.
"Now, everything's unified with the computer. I said, 'We're going to start rebuilding these older trucks that have 2 or 3 million miles. I don't even buy cars that come with computers.
"I really regret not being around to see the kids grow up. They all turned out good. They ask, 'How many miles you got under you, Pap?' I don't even know how many miles I run. Now I just chase parts for the boys. They've got a few trucks. Best job I ever had.
"Right now I'm restoring a 1953 bull-nose Kenworth. I run one of those when I was 17. You should see it. It should be done in three months."
Mr. Pentz tells me he'll likely be back in Mill Hall this year. I can't wait to see that old bull nose.
Read all entries in Long Haul Paul's "Faces of the Road" series via this link.