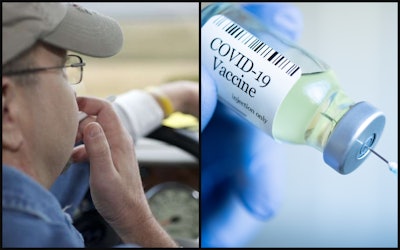 The Food and Drug Administration on Monday granted full approval to Pfizer's COVID-19 vaccine, and it didn't take long for President Joe Biden to urge employers to mandate vaccinations across their workforces.
"If you're a business leader, a nonprofit leader, a state or local leader who has been waiting on full FDA approval to require vaccinations, I call on you now to do that," Biden said. "Require it."
The same day, the National Safety Council recommended "employers follow our guidelines to encourage vaccine uptake by incentivizing and requiring vaccines as well as sharing information about the safety of vaccines."
A big engineering association, the International Bridge Turnpike and Tunnel Association, moved to require proof of vaccination to attend an in-person conference, something that hasn't happened around trucking-related events as yet.
Even before the FDA approved the Pfizer vaccine, though, companies from Facebook to Ford, from retailers to restaurants, clinics and pharmacies had mandated employees show proof of vaccination before returning to on-site work.
But in the trucking world, with so many independent contractors and owner operators who can, and do, frequently take business elsewhere when work requirements prove too onerous, do big businesses and employers even have the leverage to mandate vaccinations?
No, they don't, according to early indications.
Vaccine mandates might backfire spectacularly for fleets, shippers
Overdrive's fleet-focused sister publication CCJ recently spoke to Veriforce Master Trainer James Junkin, who said that vaccine mandates are largely legal on the federal level, but could cause problems in recruiting and retention.
"Employees may decide to resign from their positions and recruitment efforts suffer because of a vaccine mandate," Junkin told CCJ.
Fleets routinely cite driver recruiting and retention as their number one problem, making it unlikely a fleet would, absent any legal or business pressure, mandate vaccinations.
Could small fleets and independents meet shippers who ask for proof of vaccination before doing business?
Gail Rutkowski, executive director of the National Shippers Strategic Transportation Council, said that she hasn't heard of any shippers or carriers mandating vaccines, but many companies are still following masking guidelines. Other industry leaders basically fell in line with local guidelines, none of them imposing anything too heavy.
"We have a mask requirement for employees or visitors who have not been vaccinated. Nothing beyond that," said Meg Duncan, the director of strategic sourcing at 3PL Koch Logistics.
"We adhere to the local guidelines," said John Janson, senior director of global logistics at SanMar, an apparel shipper. "At this point, masks are required while in the building and in all conference rooms. We do not have a vaccine requirement."
In fact, the strictest rules we found only asked unvaccinated employees to wear a mask on-site.
"In the U.S., Dayco employees who are vaccinated may, but do not need to, wear a mask or social distance, but non-vaccinated employees are required to wear a mask and social distance where possible," said company Global Supply Chain Manager Candace Holowicki. Dayco Products is a large shipper of automotive and construction parts. "All employees, contractors and visitors are required to check in and complete a pre-entry health screening. This can be adjusted to be more stringent by site, but it cannot be lessened."
At Tranzact, an insurer for motor carriers, a source said that unvaccinated employees must wear a mask on site, and that the company does require proof of vaccination for workers to go unmasked.
If any of these shippers or affiliated businesses sought to incentivize vaccinations, they didn't mention any besides allowing maskless visits on-site.
Further, a recent Overdrive poll found few respondents among vaccine holdouts who indicated willingness to receive a vaccine if mandated as a condition of doing business or employment. A CCJ Facebook post asked its readership, mainly fleet owners, workers, and some drivers, how they would respond to their company requiring vaccinations. Overwhelmingly, those who represented themselves as drivers said they would leave the company, with some suggesting colorful flourishes to mark their exit. Those who represented themselves as fleet owners said they would not consider such a move, giving yet more anecdotal data to the conventional wisdom that says requiring drivers to get the vaccine might not end well for fleets.
"Long Haul Paul" Marhoefer, a frequent contributor to Overdrive who is vaccinated himself, has been engaging owner-operators and other readers on a personal level around vaccinations as his personal circle suffers illness and death at the hands of COVID-19. He wrote yesterday on this website a round-up of reader responses to his questions about vaccines.
The poll question that accompanied Marhoefer's story showed a majority of drivers, just like the majority of Americans, had gotten the vaccine already or were primed to following FDA approval. Remaining holdouts mostly cited hesitance around the vaccine's long-term safety or generally not feeling like they had the time or motivation to take the shot. As noted earlier, very few of the unvaccinated indicated willingness to get vaccinated because of an employer or customer mandate.
A full 35% of the unvaccinated driver respondents cited mistrust of "elites" as a reason they wouldn't take the shot.
[Related: No turning back -- trucking after COVID: A new era for direct freight]
Could refusing vaccines hurt owner-ops and drivers?
After hearing from several companies and conducting a few informal polls, this author is ready to conclude that if drivers and carriers think they they can ditch their employer or business partner if they disagree with any vaccine mandate and easily find another, they're probably correct. I can point you to the heaps of open trucking positions for drivers, and incredibly high demand for carriers large and small, as proof. Basically, employers and the shipping community need truckers too badly to boss them around too much. Even if shippers want an entirely vaccinated work force, more than that, they just want truckers to show up on time.
Yet as COVID cases surge across the country, daily deaths top 1,000, and hospitals in some regions fill to the brim, the unvaccinated are 29 times more likely to become hospitalized by a COVID infection than those with a vaccine.
Of course, vaccinated people can still get COVID.
In May, my fully vaccinated, 65-year-old father tested positive for COVID. Our whole family feared for his health, but instead of seeing his health slowly deteriorate until he needed inpatient care, or perhaps even intubation in a COVID ward where we couldn't safely visit him, he was just achy for a few days. He stayed in the guest room for ten days until his symptoms passed. He's fine now. The vaccine didn't stop him from getting COVID, but it stopped him from eating hospital food.
I think we all know this by now, but perhaps it bears repeating: COVID spreads mostly through respiratory droplets from an infected person. Truck stops have increased their cleaning efforts, but travel hubs inherently carry a high risk of COVID transmission.
If a large portion of the trucking community remains unvaccinated, that population remains at risk of getting sidelined by illness. Then who would stock the shelves? Indeed it's the opinion of this author that drivers can best take care of the economy by taking care of themselves.
Drivers and owner-operators, rarely recipients of outsize perks or preferential treatment, can probably go ahead and declare victory in any war on vaccine mandates. Mark Zuckerberg can mandate all the Facebook employees in California getting the jab, but fleets and shippers will have to think long and hard before imposing that on drivers. Maybe we can think of that as a certain type of hard-won freedom for the trucking community, and it's one I would urge you to protect by voluntarily taking the vaccine.
If you're a small fleet and employing drivers, now is a good time to remember what drivers truly want at bottom. Drivers normally rank pay as the biggest incentive to take a job. Second: home time. Further: Basic respect and dignity is a prime consideration as well.
Rather than mandating vaccines, consider cash or home time incentives for drivers that respect their personal choices, but encourage greater safety for us all.
[Related: Vaccine skepticism -- reasons for it are as varied as the trucking community]