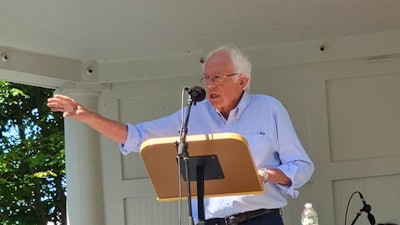 Courtesy of Rebecca Lalanne
Senator Bernie Sanders (I-Vermont) addressed the American trucking industry last week on Labor Day at a town hall meeting in Brattleboro, Vermont, and his comment should send a message that if Democrats, with whom Sanders caucuses, have their way, new environmental regulations that reach into the trucking business could come hard and fast.
Sanders, as the chair of the Senate Budget Committee and one of the most popular and influential Senators in decades, has the inside track on progressive thinking on infrastructure reform and initiatives to fight climate change. Sanders and the Democratic Party members aligned with his thinking want massive change quickly.
At his speech in Brattleboro, which the Budget chair used to talk up the Senate's $3.5 trillion reconciliation bill, Sanders made it clear that he sees climate change as an ongoing disaster in need of immediate and radical action. Given that the Senate and the House have conflicting versions of a highway bill currently in circulation, and that bill's passage contingent on the reconciliation bill, the focus on climate has several practical implications for the trucking world.
"I am not here to tell you what we are doing now is in any way enough to address the crises we are facing," Sanders said of fighting climate change via the reconciliation and infrastructure bills. "But what I am here to tell you is that we are working on one of the most consequential pieces of legislation for working people since the New Deal in the 1930s."
Sanders spoke at length about the federal government's role in getting the American public through the pandemic with stimulus checks, increased unemployment insurance benefits, and child care tax credits he hopes to expand and make permanent.
Veterans of the trucking business will note that these federal monies played a role in pumping freight volume and rates to unseen highs, while some related factors, like increased unemployment benefits and rising demand for child care, may contribute to keeping drivers home and freight capacity tight.
[Related: No turning back -- a new era for direct freight]
After his speech imploring support for the sweeping spending bills, Sanders took questions from the audience and this reporter was lucky to be standing near the front of the line.
I had some difficulty thinking of a question to ask Sanders, who can speak to a variety of issues impacting trucking and give insight on the political leanings in Washington. So I simply thought to ask him what he might say about his goals directly to American truckers, a hardworking group of essential workers and small business owners who haul through the maze of federal regulations as well as hazardous working conditions.
"I'd like to ask you to speak the American trucker. How do we bring them along for the ride to your climate goals without imposing any too-tough regulations?" I asked the Senator.
Sanders' response dodged some elements of the question, but spoke to the energy behind his agenda.
"It goes without saying that when we do a major project we want to make sure it's environmentally sound," said Sanders. "It's a little bit absurd that it takes years and years and years to do it. If we are going to rebuild this country in so many ways, we need to have strong environmental legislation, we need to protect the environment, but we need to move these things along and not drag them out forever."
Without giving specifics, Sanders said something many in the trucking world can relate to. There's constant talk of fleet electrification, massive shifts in infrastructure, new taxes or incentives aimed at reducing greenhouse gas emissions – but little (or very slow) real change.
[Related: Five owners, five forecasts for biz growth, alt-powertrain adoption]
Common among all of these initiatives: Lengthy administrative review processes. Whether it's a new bridge, a new place for truck parking, or a new mandate on emissions, mostly anything to do with trucking takes years – in many cases decades – to play out at the intersection between government, businesses and environmental watchdogs.
Sanders may not have succeeded in directly or meaningfully addressing the men and women of the trucking community here, but he did speak to something anybody can understand: Change just takes too long.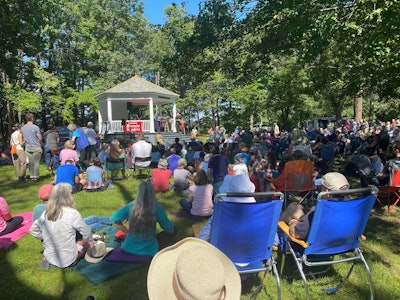 His response was reminiscent of former President Donald Trump's routine bemoaning of the lengthy timeline for infrastructure projects that had held up his administrative agenda during his term. On this issue, figures among both Republican and Democratic parties have united against a common enemy – administrative lag.
Sanders has succeeded in capturing the imagination of a great deal of the public, very nearly successful in two national Presidential campaigns, on the strength of his often forcefully populist, progressive rhetoric. Peppered throughout Sanders' speech were appeals to the working class and calls to tax the rich and powerful and bring them to heel.
While Sanders' talk of hastening change across trucking does seem cost-imposing, he also stressed ways in which the reconciliation and infrastructure bills would make life cheaper for working class people by expanding child tax credits and making childcare free in many cases.
Impressively, Sanders spoke with little visible security detail. Some hecklers came as close as 30 feet to the 79-year-old Senator, but he simply lifted his voice and spoke over them until they shuffled away. He took unscreened questions from a group assembled in a field on a hot day. Whatever potential for heated conversation or ugly remarks there were, Sanders faced it down with his basic ability to work a crowd.
While Sanders hasn't given the trucking world clarity on cost imposition with any new climate-related programs, I'd say he's at least worthy of applause for generally straight talk.