Gearing up for an anticipated uptick in the 6×2 axle market, Meritor showcased its SMARTandem axle at a press briefing this week at its Fletcher, N.C. plant. The new axle is expected to be released in late 2013.
Meritor anticipates the demand for 6×2 packages, which features a single drive axle with a complementing tag axle, will increase about 15 percent over the next few years.
"The SMARTandem offers about 400 pounds of weight savings and a 2 percent improvement in fuel economy, but it also rated to handle a GCVW (gross combination vehicle weight) of 110,000 pounds and 2,050 ft.-lbs. of output torque," said Charles Allen, Meritor general manager of Fleet Drive Axles. "For somebody who can use it, like a flatbed operator, there is no better way to have that kind of weight savings."
See video of SMARTandem demo here. (Note: I shot the video on my camera phone so sound quality is less than desirable. The truck loaded with 80,000 pounds is starting off on an incline with soapy water added to tires to reduce traction. First attempt is in regular 6×2 mode and the second attempt is after load shift and diff lock are engaged.)
While widely used in Europe, single drive axles are only now gaining momentum in the North America market. Among the top by concerns by fleets have been traction, tire wear, resale values and driver acceptance.
Meritor officials believe their technology-proven and field-tested offerings in the 6×2 market — the FUELite Tandem, which also will soon include an electronic controlled air spring (ECAS), and the SMARTandem, featuring the load shift of the FUELite and an automatic differential lock — will make the 6×2 configuration comparable to the 6×4.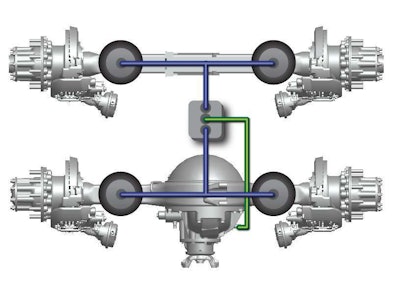 Matt Stevenson, Meritor general manager of North American Field Operations and Marketing, says with the ECAS system on the 6×2 setups, it will get "pretty darn close" to the 6×4 on tire wear, and as far as resale value, which is are calculated at about $5,000, the fuel savings over four years or less will offset the difference.
Stevenson said the trucking industry is running out of "low-hanging" fruit when it comes to sizable weight reduction and fuel economy gains. "The 6×2 is definitely a low-cost way to pick up enhanced fuel economy," he says. "We are thinking in five years, this could be as high as 18 percent of the traditional on-highway truck market."
Meritor also noted its recent investments in its operations, which total $23 million in the past three years and another $6 million in 2012. These include a new carburizing furnace, an input shaft cell and pinion hard turn at the 30-year-old plant, which encompasses 504,000 square feet.
The demo of the SMARTandem was impressive, but the true test will be in driver acceptance. Tell us, drivers, would you consider a 6×2 setup if it offered basically the same traction, tire wear and saved you money?
Podcast: Play in new window | Download