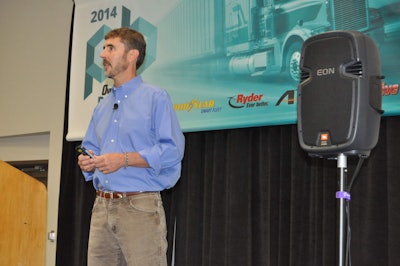 "Life is good" for owner-operators, says ATBS' Todd Amen at the end of the podcast that follows below, part of Amen's presentation during the first hour of yesterday's Overdrive/ ATBS Partners in Business seminar at the Great American Trucking Show in Dallas. (Round two is running today at 2 p.m. and will feature Kevin Rutherford among other presenters.) Amen presented the latest in revenue/income averages and trends from ATBS' owner-operator clients, which continue to follow what's been happening over a decade now. Better income on fewer miles, though whether that income has kept up with inflation is up for debate.
Hit that link for one of the central premises of Amen's talk, though data there is a couple years old now. Suffice it to say that annual average miles among owner-operators continue to fall, with revenue and income per mile, however, rising.
Though there are many factors involved, the main element of the national picture that is markedly different, Amen notes, is regulatory enforcement. Illustrating the difference between the driver of 10 years ago, when Overdrive and ATBS first joined forces in the Partners in Business, might typically have run three log books, racking up a grand total of 139,000 annual miles. Today, that figure's fewer than 110,000, with the reality of tough hours enforcement. The CSA program and the subsequent boost of the impact violations found during inspections now have on carriers of all shapes and sizes is a big part of that. Follow through from there in Amen's logic, however, in the podcast here to see how he gets to that "life is good" determination.