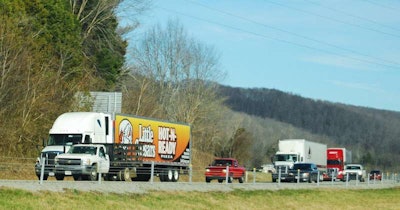 Voices continue to be raised in response to the news yesterday that the long-awaited speed-limiter-mandate proposal for heavy trucks has passed on to the White House Office of Management and Budget for review and approval for release, perhaps later this summer. Phrases that stand out among the collection included the podcast below, all in agreement that the mandate is an accident waiting to happen:
Huge mistake, an increase in road rage, more congestion, with rolling roadblocks for miles. Another way to hamper the small business owner's ability to deliver goods to market efficiently. The most common contention is an ever-present worry that, just as the 2013 restart restrictions have been shown by the American Transportation Research Institute to have done, the unintended consequences will be more accidents, injuries and fatalities on the nation's roadways. Listen here:
Some operators emphasize alternatives to imposing a single speed on on-highway trucks, such as adequate training and rewards for voluntary governing, both of which have been talked about at high levels in recent times. Work on pre-CDL Entry Level Driver Training standards is ongoing in Washington, and a "beyond compliance" incentive program was recently discussed by the Motor Carrier Safety Advisory Committee.
While the ultimate speed specified in the expected rulemaking remains unknown, the petitioners who years ago launched the effort, Road Safe America joined by the American Trucking Associations, have supported a 68 mph speed in times past, and more recently 65 mph.
For more background on the expected proposal, read the story at this link from 2014.