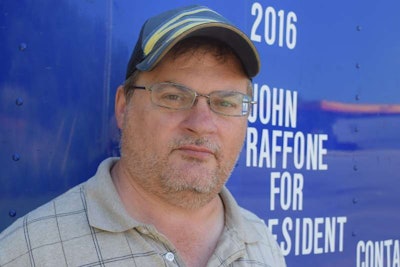 For about a year now, owner-operator John Raffone, 49, of Clearwater, Fla., has been leased to Swift Transportation with this 2013 Kenworth T660, under a lease-purchase agreement with payments of $610 a week for 108 weeks.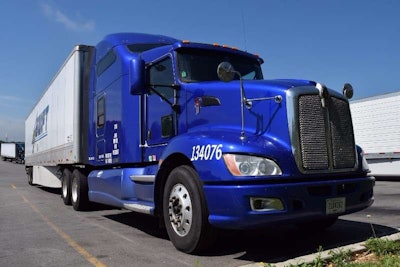 As he explains in the podcast below, he's got the option to pay the balloon at the end of the lease term — right now, looking to be somewhere in the $30Ks, he says. While his plan at the moment is leaning toward that option, the intervening period could well be an interesting one for the owner-operator.
You see, Raffone is also running for the Presidency of the United States — you'll find his Federal Election Commission "statement of candidacy" form at that link. With no operating budget for the candidacy outside of the one that keeps his trucking business rolling, and relying on word of mouth via the road and social media to spread his message, Raffone's by no means a traditional politician.
The 25-year over-the-road operator's platform, if he could be said to have one beyond a desire to return high-level politics to the average person, however, is heavy on trucking-related issues. He hopes that by staging a run he can at least raise the profiles for what he says are in some senses "old-fashioned" trucking ideas. He's running, he says, as a Democrat.
Raffone favors a return to pre-deregulation-style freight rates set with a formula simpler than the complicated lane-by-lane, commodity-by-commodity style of the past. He lays out his formula by trailer type in the post at this link. Cut-throat-type competition over freight is his target for elimination. 1980s trucking deregulation enabled such, he says, and ruined the industry for many.
He would give the DOT authority over shippers and receivers relative to detention time, with enforcement power delegated to the federal marshal's service.
He would remove federal excise tax on all new trucks and cars, and devote a plethora of resources to highway infrastructure, dedicating all motor fuels taxes to the roads — and nothing else.
Find more about him via his Facebook page for the candidacy. He's also on Facebook personally, likewise Twitter. Pictures from my brief visit with him Tuesday at a Love's west of Nashville follow the podcast of part of our talk.
Does he have a chance in hell? Probably not. Here's another question, though, one more in line with his professed goals: Could he at least help bring trucking into the national conversation in some way other than just as a punching bag for highway-safety advocates? He won't get any help from his party in the short-term, if this tweet is any indication:
It's a shame when you try to announce your candidacy for president to the national democratic party they hang up on you

— john raffone (@johnr2112) June 3, 2015
In any case, hear Raffone talk about some of these issues in the podcast below.