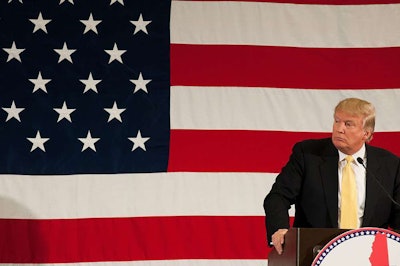 Far and away the most common choice in our recent presidential-candidate ridealong companion poll was real estate tycoon Donald Trump. Prior to the first televised debate of Republican candidates, we asked readers to name their preferred ridealong partner among prominent presidential hopefuls of both parties.
Which of these presidential candidates (or hoped-for candidates) would you most like to take on a ridealong in the truck?
**Candidates/hoped-for candidates receiving less than 3 percent of the vote were not shown but included Elizabeth Warren, Chris Christie, Martin O'Malley, Marco Rubio, Jim Webb, Jeb Bush, Rick Perry and John Kasich.
On the Democratic side, Bernie Sanders garnered just three votes fewer than widely hailed Dem. front-runner Hillary Clinton, with some poll respondents offering kudos for Sanders' frank assessments of America's problems.
Almost as common a choice as those, however, well as more common than the choice of any other candidate – "none of the above" – was illustrated by Derry Nelson, commenting on Overdrive's Facebook page: "I do not see one candidate worth voting for."