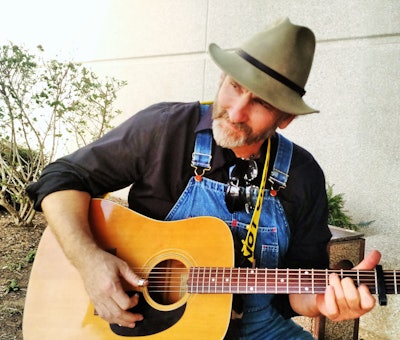 For those of you who haven't taken the time to give Moeller Trucking driver Paul Marhoefer's music a listen, it's the sonic equivalent of a black, sweltering midsummer night on the porch when the power's gone out, or the 11th hour of driving around pretty much any metropolitan area in these United States — midnight, say, without much hope for parking and with no better way to fill the time or fire the nerves than telling a tough but necessary story to someone who may not exactly want to hear it.
The songs on Marhoefer's new "Old Black Epiphone" record are borne out of the emotions that arise from duress, you could say, from life in general, wrecks that are your fault, making hard choices — sometimes the wrong ones, as you'll hear in the podcast. As a writer clearly drawing directly on his experience in life and trucking, Marhoefer's not shy about confronting his own mistakes and those of the culture he's part of, explicitly or implicitly.
But there's no small amount of hope here, too, in the complexity he brings to the tales he's spun. In his view, America's biggest problem today is reductionism in all manner of our relationships and communication with one other. He calls it "our greatest problem," noting also that what passes for "public discourse has become very vile."
A particular instance of such illustrates Marhoefer's approach to songwriting in a nutshell. "George Corley Wallace" is a track on the record that stems from the late former governor of Alabama's villification by pretty well every politician around today. Wallace's notorious stand for segregation on the schoolhouse steps had its nasty repercussions, for sure, and history has judged him harshly for it.
But Marhoefer notes he heard New Jersey Governor Chris Christie in recent history call Wallace a "despicable human being," full stop.
For Marhoefer, Wallace's full story, however, is one of redemption of a sort, at least, of eventual personal reckoning with his own dreadful mistakes, and the song hammers the thread home with a parallel story of a trucking father reckoning with his own sense of having failed his children, and himself, in many ways. Marhoefer calls it the most autobiographical one contained within the songs on the record, and for my money the weaving of those two tales together is nothing short of a master stroke for the songwriter and trucker. Marhoefer himself calls the track's inclusion on the album, though almost accidental, the most meaningful piece of it there for him. It's songwriting with guts, for sure, and well worth a listen.
You'll hear more about all that — and more music, too — in the podcast. Listen above, or below. And find further tracks from Marhoefer at the top of the Music to Truck by playlist below.