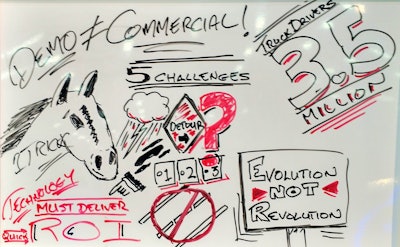 "There's been a lot of hype about … autonomous vehicles" and the contention that "we're not going to need" many of the more than 3.5 million CDL drivers in the future, notes Bendix Director of Marketing and Govt. Affairs Fred Andersky. He spoke to attendees of the Mid-America Trucking Show at the Bendix booth as part of a series of quick "tech talks" dealing with a host of brake- and stability-control-related issues. You can hear Andersky's "Drivers and the Automated Future" talk in podcast form in the players above or below.
Note the use of the "automated" term — Andersky's bullish on the future for drivers and owner-operators as more and more technology becomes available to assist in control of the vehicle, contrary to the alarmism that often dominates mainstream-media reports on trucking's coming "driverless," or "autonomous," future.
Automated, rather, trades in a term utilized today, for instance, for the automated manual transmissions growing increasingly common in heavy duty trucks today. As with those transmissions, Andersky suggests, driver control will be a necessity in increasingly automated vehicles for the foreseeable future. Ultimately, time and the pace of technological development is the wild card.
The transportation world needs to keep in mind that "demonstration is not commercialization," Andersky says, and "what a lot of people talk about when they talk about autonomous cars — they're one-trick ponies" referring to a single application, highway driving in fairly clear weather. What many techs that have been demonstrated to date amount to is simply adaptive cruise control with steering, and who's "going to pay 50,000 for adaptive cruise control with steering?"
As he also notes in the talk, Bendix quizzed a variety of fleet customers on just when they expected much of their fleet to fully autonomous. The answers, he says, were ultimately everywhere between "now and never."
Hear more via the podcast:
Maintaining auto slacks
Andersky's talk wasn't the only tech talk Bendix hosted at MATS. Overdrive's Holley Young was on hand to stream the following presentation about maintaining automatic slack adjusters (don't forget the grease) to Overdrive's Facebook page. Run back through it yourself below:
Bendix's Tech Talk "Slack Adjusters Do Require Regular Maintenance" at MATS

Posted by Overdrive Magazine on Friday, March 24, 2017