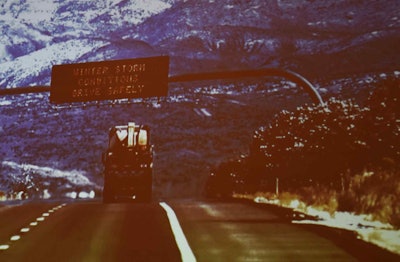 "What we do as truck drivers is very dangerous –- with the information available to us, we don't have to drive blind over the hill and not know what's coming for us."
The quote above is from independent Joey Slaughter, running mostly brokered freight on a step deck, with a bevy of agent relationships supplying the bulk of it. In his presentation to attendees of the Expedite Expo a few weeks ago in Lexington, Ky., he laid out his organizational strategy for the smartphone apps that he utilizes out on the road. You can hear a follow-up conversation we had in the latest episode of the Overdrive Radio podcast in the players up top and following. There he details a fairly dramatic example of a time when information available via his phone saved him from a potentially disastrous situation, and also lays out his strategies around broker and freight-agent relationships, his plan for the ELD mandate (he's still on paper), the fuel card of the National Association of Small Trucking Companies, where he's a member, and more.
Podcast: Play in new window | Download
As for the presentation, he's built folder groups for his apps on his phone home screen that contain a variety related to the following categories:
Productivity | Here find, among others, the Wunderlist app ("a to-do list on steroids," Slaughter says) and Evernote, among Slaughter's "top five favorite apps," he says. He uses Evernote in a variety of ways.
"I started making notes on my phone [an iPhone] when I first got it," Slaughter says. Sometimes I'd lose the notes, but once I got evernote that didn't happen anymore. … I keep my IFTA miles there. If I see an interesting article in a magazine, I take a snapshot of it" and save it later referral.
Finance | In this folder includes all mobile-banking-related tools, from his bank's app for mobile deposits, etc., to Quickbooks' app for receipt snapshots, Paypal, Google wallet and work.
Weather | All owner-operators with smartphones no doubt have their favorite weather apps. Slaughter's is WeatherBug, combined with MyRadar Weater Radar for more detailed local-radar looks. "When you open it it defaults to where you are," Slaughter says, "and you can look elsewhere as well. I was in Erie, Pa., and got into the truck stop there and I was parked a half-mile away – I didn't want to walk all the way in there through a thunderstorm. I looked at MyRadar and saw I was at the edge of it – 'I can wait about five minutes', I thought, and sure enough, I walked into the truck stop dry as a bone."
Entertainment | From a podcasting app to Netflix and Audible for a huge library of audiobooks.
News | Slaughter includes this group on his phone not because he really needs an extra news source but for the breaking-news alerts most major news organizations' apps deliver. He references the recent interstate collapse on I-85 and other problems in Atlanta, the Baltimore and Charlotte riots that spilled over into freeways. "If you're just driving blind out there and not listening to any news source, you can be right in the middle of that stuff."
Social | Social media apps — Facebook, Snapchat, Twitter, Instagram…
Travel | He includes here apps for airlines if needed, Domino's pizza, ride-sharing apps like Lyft/Uber, GrubHub — the last of these collects local restaurants that deliver into one central place. "You can get food delivered to your hotel or even your truck" from a variety of places, Slaughter notes. TripAdvisor and Yelp, too, offer "reviews of different things" in whatever town you happen to be laid over in.
Trucking | Trucker Path and One20, Google Maps, Waze, and Find Truck Service ("I have used it, sadly. I'm independent, so don't have anybody in the back office helping me. This has a location device within it, and you check the services you need and it will give you the choices based on your location.) as well as many others are organized here.