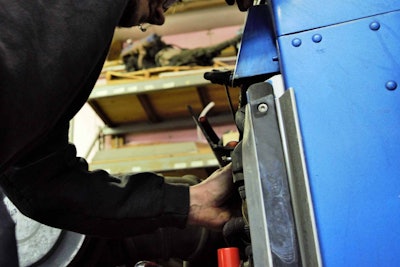 For this week's edition of the Overdrive Radio podcast, I talked with Browerville, Minn.-based owner-operator Randy Carlson, whom regular readers will remember from coverage of his 2001 Freightliner Classic, powered by an older B-model Caterpillar now exempt from the electronic logging device mandate.
You can read more about the quandary he'd found himself in before FMCSA's recent change to the basis they planned to direct enforcement to use to determine the exemption (engine year, not the model year of the truck) via the following story from last week:
That's not all, however, that's noteworthy about Carlson's approach to the business. His entry into trucking followed an early career as a mechanic, learning from his father, who also trucked, then in trade school and on the job at an International dealer. It's a solid basis on which to build an owner-operator business, one that I'd imagine is less common than perhaps it used to be.
Carlson tells his story in the podcast that follows (also find it in the player at the top), tracking through his early years through to where he is today. He hauls for a longtime direct customer out of his area is Minnesota to Wisconsin, running a mix of reefer and dry van with brokers from there around the Midwest otherwise. Ultimately: He can't possibly begin to count up the money he's saved on shop costs with the ability to take care of most issues outside of regular service on his own.
We also talked a bit about an issue a lot of glider owners may experience with factory-reman EPA 98 emissions spec engines, relative to FMCSA's new engine-year pre-2000 exemption policy — more than one reader's indicated determining the original engine model year can be difficult, given the serial number stamped on the block is often enough replaced with a reman serial number, and parts in such engines can come from a variety of engines from years both pre- and post-2000. Stay tuned for a little more on such scenarios in future reporting. If this describes your situation, what have you heard from your OEM/dealer partners?
Podcast: Play in new window | Download
And: How would you describe your own mechanical background when you got your start trucking as an owner-operator? Weigh in via the poll below.