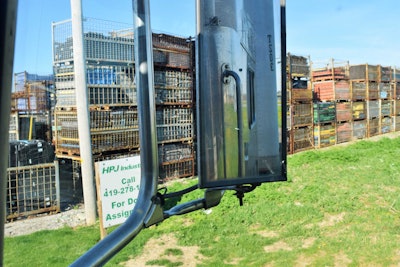 In this week's edition of the Overdrive Radio podcast (in players above and below), we're taking a run through the mailbag following last week's conversations with organizers of two ELD mandate protest actions set to take place in Washington, D.C., beginning Oct. 3. Those are from the ELD or Me group, which has promoted two rally points around the nation's capital ahead of a downtown gathering, minus trucks, and Operation Black and Blue, with similar plans. Both groups are encouraging truckers sympathetic to the anti-ELD message to shut down around the country and rally in their own locales.
Podcast: Play in new window | Download
If anything's clear, there's a lot of sympathy out there for the anti-ELD message. Among those who called in to voice support of the effort, in answer to my question last week as to whether listeners would actually participate in the efforts, there was but one lone voice who took the opposite tack. That wasn't the case for the commenters under the associated Channel 19 blog post. Dennis Musselman was one among several who noted they wouldn't be participating, citing a variety of reasons but chiefly the too-little-too-late sentiment.
"People have had years to do this," he wrote. "It won't matter at this point."
Reading on mobile? Follow these links to add the Overdrive Radio podcast to your favorites in Google Music, iTunes, Stitcher or TuneIn.
Musselman alluded to the long history of DOT's attempts to mandate ELDs, back to the Bush-administration year 2007 with the limited e-log mandate for carriers found to have a pattern of hours noncompliance, which OOIDA successfully challenged and had thrown out by the courts. Obama's FMCSA had floated a broader mandate in the interim. Then, as Musselman also noted, a Republican U.S. Congress way back in 2012 in the MAP-21 highway bill, at the urging of DOT and larger-carrier interests, "tasked the FMCSA to come up with ELD rules, so going to them and asking them to stop those rules seems kind of ridiculous. The issue has been defeated in lower courts, the Supreme Court, and Congress … again. The only people who will get hurt by a truck stoppage will be the drivers that take part in it. Big companies will be more than happy to carry that freight, and a huge majority of truck owners will still be out there hauling. So, good luck with the protest."
As you'll hear in the podcast, however, a much larger number of operators expressed solidarity with the protest organizers, whether or not they would be participating. You can count in two-truck HK Transfer, of Lone Jack, Mo., noted owner Harry Gauer. "We will definitely shut down," Gauer notes, though he runs two ELD-exempt trucks, a 1995 Kenworth W900 and a 1999 International. "We are exempt, but we are in arms with our brother truckers out there who cannot go back to these older trucks. We will support them all the way, as brothers in trucking."