Among other efforts, the "ELD or Me" anti-ELD mandate group's planned D.C. activities have gotten under way today, after things got started in earnest as the group members set up shop at the Doswell Truck Stop in Doswell, Va. I'm here slightly north of Doswell and plan on being in attendance to cover the rally in D.C. today — watch Overdrive's social media feeds for periodic updates, and I'll surely have a report filed at some point in the day with more to follow, no doubt.
I made the Doswell gathering point near the Kings Dominion amusement park by around 5 p.m. local time yesterday, where I found these two owner-operators, among a group of a dozen or two parked around the lot, in the process of hanging a sign (donated by a local member) on the pristine van of Rob Hallahan.
There were just a couple dozen folks on hand this evening planning to roll in to D.C. from the Doswell location. ELD or Me creator and trucker/singer-songwriter Tony Justice got delayed earlier in the day and, when we spoke around 9 p.m. local time last night, he gave me an ETA of midnight for his own arrival, carrying passenger vans (to ferry drivers from Doswell to downtown D.C. for the demonstration) on open-deck trailers behind his and another driver's rig.
As darkness fell over the Doswell Truck Stop, I talked to the owner of the rig shown below, A.C. Daniel, who noted he'd had a KW in 1980 that was featured in Overdrive at the time.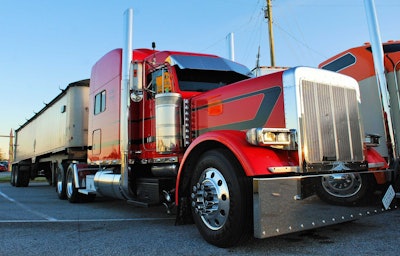 Things, he believes, are at least a little different now. We'll find out more about whether he's right this week.
What's your take?