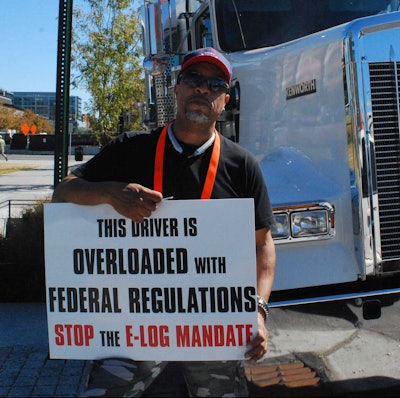 Demonstrators in D.C. (including among others ELD or Me's Scott Reed, as he noted, as well as Operation Black and Blue's Scott Jordan) met with officials at Federal Motor Carrier Safety Administration headquarters today after spending the day Wednesday spread out across the city in small groups from Constitution Avenue between the Washington Monument and the White House to DOT headquarters on New Jersey Avenue, South of the Capitol. (More on the meeting and potential outcomes in the coming days.)
In this week's edition of the Overdrive Radio podcast, we round up some of the messages on our podcast line, answering a few questions as well, pertaining to the ELD mandate and activity in support of the grassroots efforts around the country.
Podcast: Play in new window | Download
Also in the podcast, you'll hear a brief talk I had with Tony Justice about his group's tactics heading into D.C. daily since Tuesday from the Doswell Truck Stop in Doswell, Va. Tomorrow, grassroots groups involved there, who according to reports have grown a bit in size the last couple days — there was a definite influx while I was there yesterday — seem to be coalescing around the area between the Washington Monument and the White House on Constitution Avenue for events tomorrow.
Small fleet owner Scott Jordan, when I talked to him yesterday, said his group was attempting to approximate a truck show in D.C. for the Friday activities along the avenue. Given the shifting nature of these groups' planning, however, anyone in the area would be wise to check their Facebook-group pages and/or websites for information.
The ELD or Me group's efforts, along with those of individual owner-operators around the country advocating locally or to D.C. from afar by calling reps and Senators, appeared to bear fruit in three additional House Rep cosponsors the first day of the demonstrations for the H.R. 3282 ELD Extension Act of 2017, which would delay the mandate two years. The number hasn't moved beyond 55 since that day, however.
OOIDA Board Member Monte Wiederhold was in D.C. on Tuesday, he says, and he's hopeful his meeting with three different reps' staffers, as well as his own Ohio rep Jim Jordan, moved the needle with them. "Most were supportive, but not sure if this will be in time," he told me. Getting the White House's attention with the new coalition of various industry organizations announced last week, Wiederhold says, has still not borne fruit exactly.
Unless the meeting at FMCSA offices today is evidence of a change of heart within the administration as a result of said coalition, and/or the grassroots demonstration this week.
OOIDA also issued a press release Thursday hammering home the Trump administration's professed concern for the burdensome nature of undue regulation on small business, too, hoping administration officials would take notice.
We'll see where it all goes. As trucker-songwriter Tony Justice says in the podcast, maybe stars will align just so.