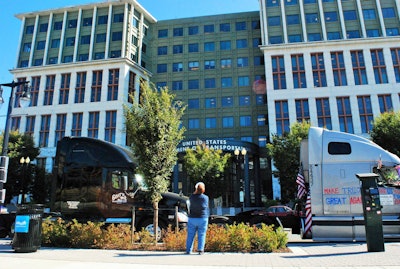 President Trump's @realdonaldtrump and @POTUS Twitter accounts continue today to be beset by an #ELDorMe tweetstorm of sorts by anti-ELD mandate partisans after his tax-reform-related speech last week with an American Trucking Associations backdrop. The speech held nary a mention of scattered protests (including several days with a truck show at his back door) around the nation against the ELD mandate the week prior. The title of this post and the podcast comes from a caller to the podcast message line (530-408-6423), who urged lawmakers — and President Trump — to consider the burdens that have been heaped on small trucking businesses over the last decade, and put off an added cost in the ELD mandate already.
As ripple effects continue to emanate from a sense of renewed camaraderie among many of the participants in D.C. and around the country as a result of ELD mandate protest efforts, I thought I'd take you back through some of the various conversations had during my brief time in D.C. for protest days 1 and 2 a week and more back. In podcast players above and below, hear brief interviews with the likes of owner-operators Rob Hallahan, Brian Bucenell, Wayne Clark, Riley Clay, John Legg, Doug Viaille and others. It's all rounded up with more of your incoming calls to the Overdrive Radio podcast line relative to ELDs, most taken during the week of the protests.
Following, find pictures of the featured owner-operators and/or their rigs.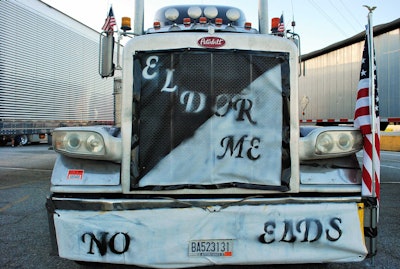 And read more about owner-operator Wayne Clark, who arrived Tuesday, October 3, in D.C. to join up with Operation Black and Blue's efforts, via this piece published October 4.