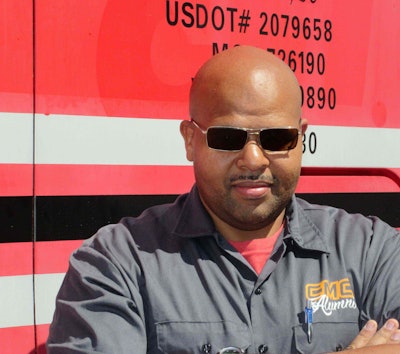 Hauling in a 2002 Kenworth T2000 and with a driver in another truck, owner-operator and Rates & Lanes podcast host Rico Muhammad joined me for this edition of Overdrive Radio to talk a little about his past switch to engine-connected e-logs, and a lot about what could be coming December 18 and thereafter. That's the date, but of course, when enforcement of the Federal Motor Carrier Safety Administration's electronic logging device mandate begins, or at least remains set to begin unless efforts to procure a delay are successful.
Prospects for any delay get slimmer by the day, but the latest is grassroots groups' push around the log-book-page-letter writing campaign I wrote about last week, coming on the heels of Texas Rep. Brian Babin's letter to the White House expressly asking for an executive order to delay the mandate at least until April 1. Read more about that at the link.
I've written about Muhammad and his now longtime use of Rand McNally's TND760 fleet edition AOBRD in his operation before, likewise his thoughts on the hours "quagmire" that can easily result with excessive detention at docks. In the podcast, we get into some nuts-and-bolts ELD implementation issues, but perhaps more importantly, a discussion of what Muhammad feels is a sort of "magic eraser" role carriers and drivers have been playing for too long around that quagmire, covering over the uncompensated-detention issue to ultimate detriment of themselves.
As a trade-off for the ultimate hassle of mandated e-logs, Muhammad's hopeful owner-operators can both individually and collectively use the change as a cudgel to their advantage when dealing with brokers, shippers, receivers … anyone in the supply chain who would insist on wasting drivers' time.
He doesn't have his head in the sand to the challenge of that actually happening, however, nor in the clouds with predictions on where rates might go in the coming year, provided the mandate stays on its schedule. On both, "the jury is still out," he says.
Take a listen.