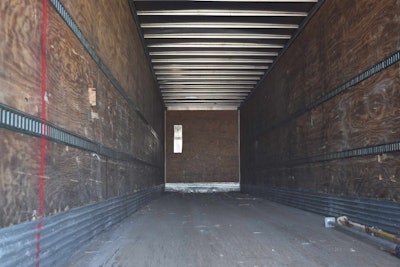 This edition of the Overdrive Radio podcast is the first in what will ultimately be two podcasts sharing portions of a trucking-insights panel held at Truckstop.com's third Connected user conference, held earlier this week in Dallas. Insights on rates growth post-ELD mandate, economic conditions and just when we might look out for a downturn, automation in trucking and brokerage and much more were on offer from Tucker Company Worldwide broker Jeff Tucker, Truckstop.com Chief Economist Noel Perry, and Stifel's John Larkin.
This edition features some occasionally diverging thoughts on opportunities and dilemmas for brokers and small carriers when it comes to the "Amazon effect" we've written about from time to time, in food and retail in particular, with tightened delivery windows and lead times on loads offering opportunities to truly differentiate oneself from a service perspective and be rewarded for it, for those positioned to take advantage. Take a listen:
Podcast: Play in new window | Download
Also, a bit of evidence to counter the PR engine behind the so-called "driver shortage" moniker, often viewed as a turnover problem at many fleets — the inability to hold on to anyone for long, for reasons of pay or perhaps a propensity to bring on CDL holders new to the game and less-well-suited to it.
Brian Lock, who spent his long career in trucking as a company driver through it all, throws some ice cold water on the shortage notion. As he wrote me recently: "I think this driver shortage must be totally false. I am an OTR driver with 31 years of experience and no trucking company, and I mean none, will hire me. I have told everyone that I have 31 years and approximately 2.5 to 3 million accident free miles. I don't smoke or drink and take extreme care of the trucks that have been assigned to me to drive over the years. I had never missed a day of work that I know of since I got my license in 78 up until 2010. I got very sick in 2010 and was out of a truck for three and a half years, the only time I have missed."
Brian's been the very definition of a professional driver, someone who "absolutely loves" trucking and has wanted to be a driver since about age 5. Again, he was one, and a safe one, for more than three decades, he says.
If a trucking company won't hire a guy like that, I don't know what to say about it.
At once, Lock, who never went to a driving school in the '70s when he learned, noted his time away from the profession of hauling with his sickness, remembering an old adage from a couple of the men who trained him back when: "I was always told by them to never get sick and miss work, and I guess there is truth to this. You would think that if there was truly a shortage that companies would want to hire someone with 31 years … over these kids fresh out of school who don't know the front from the back of a truck."
Wouldn't you?