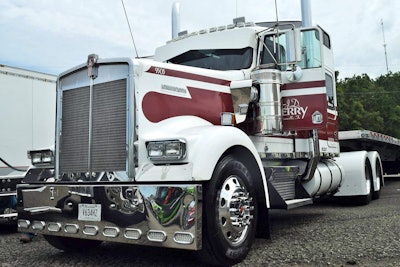 If you've ever had the experience of a starter going bad at ever-decreasing intervals — the first one on the truck from the factory lasted 500,000 miles, the next one 200,000, etc. — you could be experiencing a phenomenon noted by Danial Mustafa, TA Truck Centers' Director of Technical Services. Absent the right diagnostic equipment to troubleshoot conditions all along the loaded-up electrical and electronic systems of modern diesels, too many technicians, he says, essentially throw parts and components at any given problem, particularly in the starting and charging system.
In the video above, Mustafa demonstrates the Auto Meter BCT460 diagnostic device for voltage-drop detection — which can occur with time and deterioration/corrosion within cabling between your batteries, starter and alternator. A truck that's having issues starting, he says, might be suffering "voltage drop" from a cable that needs replacing — if not replaced, a bad cable that becomes a consumer of electricity rather than just a conduit can reduce the life of components along the starting and charging system chain, leading higher maintenance costs, ultimately, of course.
Mustafa was presenting at Expedite Expo in July during a presentation in which he ran through the unique characteristics and electrical demands of newer trucks — and the demands subsequently placed on technicians who would troubleshoot electrical issues. His talk is illustrative of the basics of battery and alternator development over the last couple decades, as demands placed on batteries, alternators and other starting and charging components have increased, and the importance of using the right components in tandem with each other, depending on what kind of battery you're using.
Mustafa, as I've seen in the past, speaks clearly to the information truck owners need to be able to evaluate both the equipment choices and the course of maintenance recommended by any technician. Hear the majority of his presentation — the part prior to the demonstration in the video above, anyway — via the podcast players below.
Whence the W900?
I'm probably not the only one who's seen chatter going around Facebook about the rumors of the sunsetting of the W900 series of Kenworth models. Depending on who's talking, the rumor is it's not going to be available in 2020, or maybe next year, or its demise is imminent post-haste tomorrow!
Welp.
Overdrive Equipment Editor Jason Cannon heard the rumors, too, and queried a few dealers and went straight to Kenworth itself. Here's what he asked:
I've seen several comments on social media that Kenworth is discontinuing the W900 in the not-too-distant future. Any truth to that?
Kenworth rep Jeff Parietti answered succinctly, and probably favorably for all the W9 fans out there:
No.