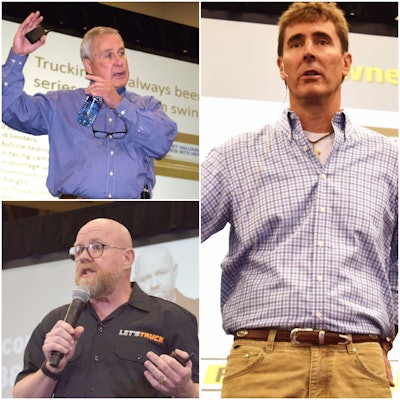 This edition of Overdrive Radio rounds up three distinct parts of the Partners in Business seminars held last month at the Great American Trucking Show, with presentations by ATBS President Todd Amen, radio host and former small fleet owner-operator Kevin Rutherford, and Richard DeForest, also with ATBS and a longtime PIB presenter.
Amen begins with a quick take on current conditions in trucking relative to the wider economy and continues into the weeds with some valuable data against which you can compare your own for major tracked segments.
DeForest offers what amounts to an owner-operator version of business best practices for a solid foundation to prepare for what inevitably will come — another economic downturn, often tough to weather for owner-operators in trucking — to set up for success for the long-term and a comfortable retirement, pull out of a credit hole and other situations.
Rutherford runs through his philosophy on dealing with customer relationships — and how, he believes, too many owner-ops create an impossible task in this department when dealing with just too many brokers. His thoughts on the broker as customer, direct-shipper relationships and much more dominated this talk, in part spurred on by lively discussions with members of the audience.
Take a listen:
Podcast: Play in new window | Download