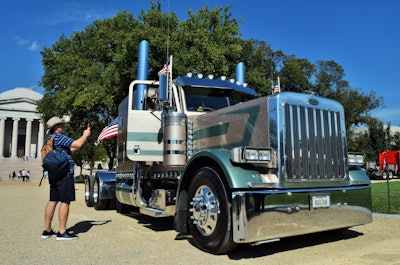 In this edition of the Overdrive Radio podcast, a little audio from conversations out on the National Mall in D.C. with Todd Campbell of Campbell Farms in Bainbridge, Ohio, and owner-op Doug Hasner, who jumps off near the beginning with an update since the last time we talked, after he was tased by police in D.C. in April following a series of miscommunications and clearly an over-reaction by the police. (Charges were ultimately dropped.)
Take a listen above or via the podcast player here:
Podcast: Play in new window | Download
Also in the podcast, short-haul, mostly grain hauler Todd Campbell of Ohio on why he joined the groups and individual owner-ops out on the mall last week, given he's exempt from hours of service for 99 percent of what he does. Campbell's views on new tariffs — particularly China's retaliatory measures on a variety of U.S. agricultural products — and how they're rippling quickly into the farming and ag hauling business, also come up in brief in the conversation.
Hasner elucidates just why he participated in the event in D.C., his fifth time there following his participation in December last year in the "media blitz" that grassroots groups of drivers organized around the nation as something of a last-minute press against the ELD mandate a couple weeks before its implementation.
The audio rounds out with a bevy of callers to Overdrive's podcast line offering point of view on the potential for hours of service change as the Federal Motor Carrier Safety Administration's advance notice of proposed rulemaking's comment period closes tomorrow, October 10.