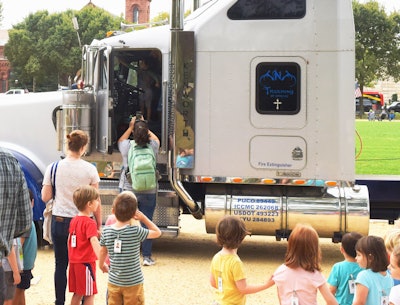 Pam Wilson hired on with Utah-based large fleet C.R. England about a year ago as vice president of process development. That's something of a fancy way of saying she was brought in with hopes of improving parts of the company that support those who make the it tick – that's truck drivers, of course. At the time of Wilson's hiring, as Aaron Huff wrote in Overdrive sister fleet publication CCJ earlier this year, among the large number of company-employed drivers that make up the over-the-road division (accounting for around 80 percent of the entire company's drivers), "the large majority of its OTR drivers are in the process of completing the company's 90-day training program after they have earned a CDL."
That represents a lot of turnover. Figuring out how to better set those new drivers up for success could pay dividends long-term, no doubt, company executives knew. The goal, as Wilson puts it, is to be a better safety net as a company, particularly important for those who are jumping into trucking for the first time and a situation where they don't know quite what exactly to expect.
Aaron Huff's story turned heads for another reason, though. Wilson, in her 40s, didn't immediately publicly come onboard as management upon her hiring. Rather, she called C.R. England's training academy and started the process of getting her CDL – undercover, as it were, within the training program.
What she found was a meaningful new appreciation for the sometimes difficult new-driver experience, perhaps holding some insights for those of you who employ drivers and office staff yourselves. Ultimately, at C.R. England, company recommendations and process changes for support staff in the driver call center, with some tweaks aimed at emphasizing empathy in all in-company exchanges, cut turnover by half in just a few short months early this year, according to Huff's report. Take a listen to my conversation with her about the experience:
Also in the podcast, ICYMI from the video on Tuesday: Voices from 10-4 D.C. last week with point of view on the issues from Germann Soeth of Frederick, Md.; Kit Spanfellner of Northwest Ohio, leased to Davidson Trucking; Generations Express owner-operator Bryan Hutchens of Oklahoma; independent Ruben Carrion of Kissimmee, Fla.; and Iowa-based Mike Jellison, also running independent.