Previously in the Over the Road podcast series: Episode 3 -- A brief history of trucking in America
The Channel One-Nine Special set of mini-episodes in the Over the Road podcast series attempts to provide answers to questions about trucking from listeners inside and outside the business by consulting with the professionals. For the third special, we're answering this one: What do truckers listen to on the road? 
So much of that answer depends on taste, but in addition to a series of quick takes from a variety of professionals we turned to a connoisseur of trucking songs — the one and only Tony Justice — to take us through something of a greatest-hits playlist, with a little of his own original trucking music, too, for good contemporary-classics measure. Enjoy:
Listen via the embedded Spotify player above or via your podcast streaming app of choice (find several options at the bottom of the Over the Road page at the link). Hear more music by Justice himself at the head of Overdrive's "Music to truck by" Spotify playlist at this link, featuring the original work of trucking troubadours, great driving music and trucking classics.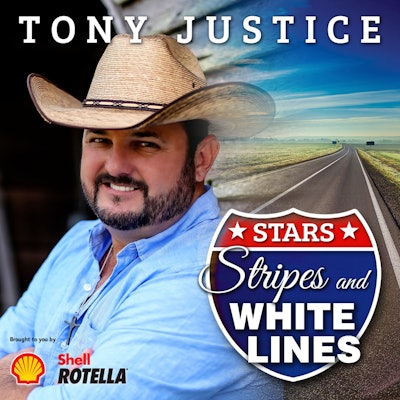 Next in the Over the Road series: Episode 4 -- Three stops in Kentucky